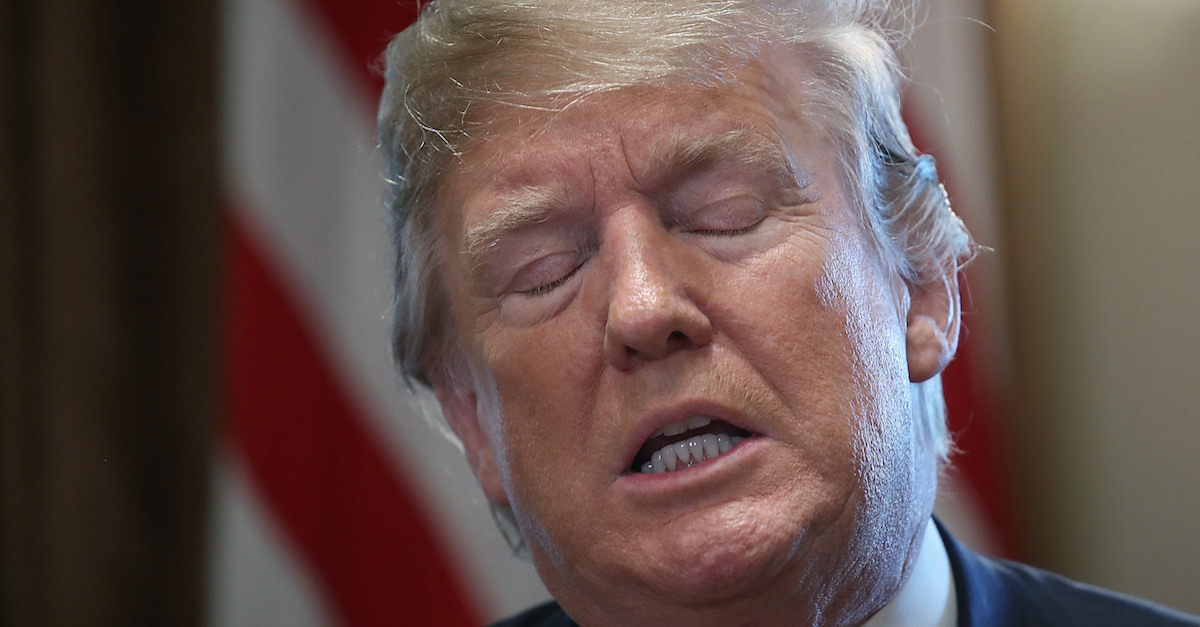 Comedian Tom Arnold, who's been working on a project for Vice called "The Hunt for the Trump Tapes," tweeted out a photo with none other than Michael Cohen from a hotel in New York City.  The caption of the photo reads, "I love New York." Cohen retweeted it.
One of Arnold's responses to questions about the photo was newsworthy in its own right. After he confirms that this is the real Michael Cohen, Arnold is asked: "[O]n a scale of 1 to Trump is definitely going down how happy [were you] after this meeting?"
Arnold replies, "10..Trump is going to quit..we are still here at The Regency."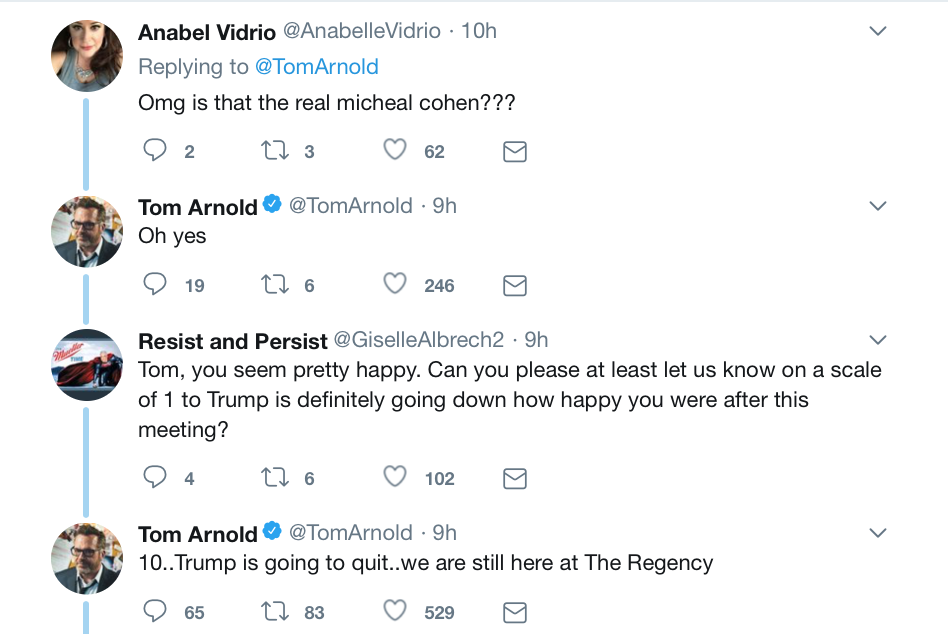 Well, that escalated quickly.
NBC News reported some more details about the meeting on Friday. It happened at the Loews Regency Hotel in Manhattan.
"We've been on the other side of the table and now we're on the same side," he said. "It's on! I hope he [Trump] sees the picture of me and Michael Cohen and it haunts his dreams."
"This dude has all the tapes — this dude has everything," he continued. "I say to Michael, 'Guess what? We're taking Trump down together,' and he's so tired he's like, 'OK,' and his wife is like, 'OK, f*** Trump.'"
Arnold went on to say that Cohen notices President Donald Trump has been giving him the cold shoulder.
"Michael Cohen showed up and worked diligently above and beyond and sacrificed and Donald Trump is like I don't even know who he is. You think Michael doesn't notice that?" he asked.
The photo op comes at a time there's already talk of Cohen cooperating with federal prosecutors in New York and that Cohen has been upset about the way he's been treated lately by Trump. For instance, it was reported Cohen was unhappy that Trump hasn't helped pay his exorbitant legal bills. As you may know, Cohen is under criminal investigation but has not been charged with a crime.
As recently as Tuesday, anonymous Cohen friends indicated the embattled lawyer may flip on Trump (if, indeed, there is something he knows that would interest the feds) and cut a deal.
The friends said Cohen is willing to talk "in the right situation." They also said that Cohen feels "isolated" by Trump. Trump said recently that Cohen is no longer his lawyer and hasn't talked to him in some time.
Update: Cohen has denied that President Trump was discussed at all. 
Arnold has issued an apology.
Cohen is happy the record's been set straight.
[Image via Win McNamee/Getty Images]
Have a tip we should know? [email protected]