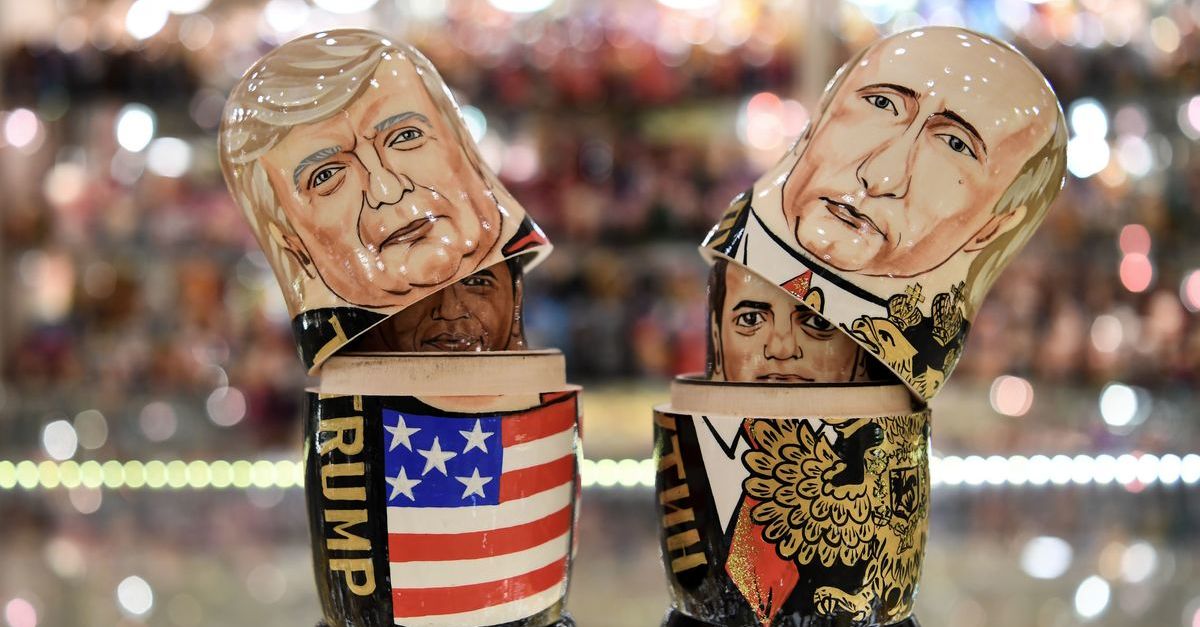 Russiagate is nearly over and done with, and it's been mostly a dud. Special counsel Robert Mueller determined that some Russians worked to influence the U.S. election in 2016, but not one American was determined to have been party to a grand conspiracy.
In light of what we now know, it seems quite a few reporting snafus occurred over the past two-and-a-half years. Here's five of the biggest Russia probe reporting flops, many of which relied on anonymous sources.
1. Michael Cohen's Trip to Prague as Told by McClatchy
On April 13, 2018, McClatchy sleuths Peter Stone and Greg Gordon reported that Mueller had uncovered evidence putting ex-Trump lawyer Michael Cohen in the bustling capital city of the Czech Republic.
This would-be bombshell relayed the following information:
The Justice Department special counsel has evidence that Donald Trump's personal lawyer and confidant, Michael Cohen, secretly made a late-summer trip to Prague during the 2016 presidential campaign, according to two sources familiar with the matter.
Based on anonymous sources, the Stone-Gordon reporting here would have verified one of the key claims made in the controversial Steele Dossier–that Cohen had surreptitiously met with Kremlin agents in Western Europe to strategize about election meddling–a claim which Cohen had already rubbished via Twitter; and which he trashed again immediately after McClatchy made the claim.
The story faded after awhile but then new "information" led the news-gathering organization to double-down on their claim.
On December 27, 2018, Stone and Gordon re-upped the ante by reporting that "[a] mobile phone traced to" Cohen "briefly sent signals ricocheting off cell towers in the Prague area in late summer 2016." This alleged ricocheting of signals left "an electronic record to support claims that Cohen met secretly there with Russian officials," according to the report. And this time, four anonymous sources fed Stone and Gordon this unproven narrative.
McClatchy is standing by its reporting.
2. The Guardian Gets it Wrong About Julian Assange Meeting Paul Manafort
On November 27, 2018, The Guardian's Luke Harding and Dan Collyns made a shocking claim: former Trump 2016 campaign chair Paul Manafort had somehow evaded detection at the most surveilled embassy in the world and secretly took not one, not two, but three separate meetings with Wikileaks founder Julian Assange.
Here's when the London-based outlet initially reported the claim:
Donald Trump's former campaign manager Paul Manafort held secret talks with Julian Assange inside the Ecuadorian embassy in London, and visited around the time he joined Trump's campaign, the Guardian has been told.

Sources have said Manafort went to see Assange in 2013, 2015 and in spring 2016 – during the period when he was made a key figure in Trump's push for the White House.
Wikileaks and Manafort both tossed cold water on the idea, and threatened lawsuits.
"This story is totally false and deliberately libelous," Manafort said via his attorneys. "I have never met Julian Assange or anyone connected to him. I have never been contacted by anyone connected to Wikileaks, either directly or indirectly.I have never reached out to Assange or Wikileaks on any matter. We are considering all legal options against the Guardian who proceeded with this story even after being notified by my representatives that it was false."
Assange claimed it was simply a "hoax" and Wikileaks noted the incident was "not the first time that the Guardian, and in particular its writer Luke Harding, have fabricated a story about Assange."
After the initial hubbub died down–and after the story predictably confirmed priors and went viral–there was never a scrap of evidence provided to support the claim.
Instead, The Guardian, Harding and Collyns ignored questions–and scrubbed away the third byline on the story without ever notifying readers about the change. As noted by The Intercept, Fernando Villavicencio was originally listed as the blockbuster claim's third author in the paper's print edition. But the online version fails to mention the Ecuadorean journalist whatsoever.
As it turns out, Manafort was never logged as a visitor at the embassy and there is no publicly-available evidence supporting the story.
3. NBC Embarrassingly Claims the Feds Wiretapped Michael Cohen
On May 3, 2018, NBC News' Tom Winter and Julia Ainsley distinguished themselves by reporting that federal investigators had wiretapped Michael Cohen's phones in the weeks leading up to the raids on his offices.
The original report has been semi-successfully removed from the Internet Archive's Wayback Machine by the news outlet, but it is still possible to briefly scroll down and screenshot the first few paragraphs of the initial story. As the text shows, anonymous sources are cited: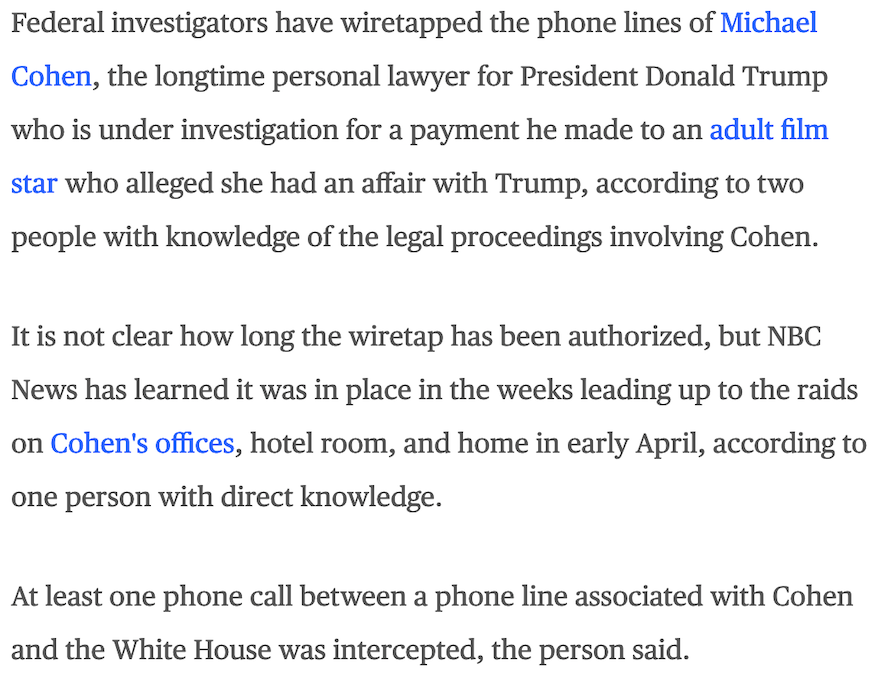 Hours later–and after quite a bit of legal analysis and theorizing was given as to the gravity of the false report–NBC News and the two reporters in question issued various corrections admitting that Cohen had not been wiretapped.
Rather, NBC News claimed, federal investigators obtained a "pen register" on Cohen. But even this correction was wrong.
As Law&Crime pointed out, the method used to monitor Cohen was actually a combination of a pen register and what's known as a "trap and trace" device.
4. Donald Trump Jr. Was Incorrectly Accused of Perjury By NPR
On November 30, 2018, National Public Radio's Philip Ewing relayed a false story about allegedly false testimony given by the president's oldest son while under oath before the U.S. Senate.
The original report quoted Trump Jr. as saying that a proposed Trump Tower project in Moscow "faded away" by the end of 2014.
"But not in 2015 or 2016?" the president's son was asked.
"Certainly not '16," Trump Jr. replied. "There was never a definitive end to it. It just died of deal fatigue."
This answer, Ewing claimed, placed the younger Trump in serious legal jeopardy because it conflicted with Michael Cohen's statements in a plea agreement as to how long the deal was pursued. Per Cohen, the deal went forward until June 2016–and Cohen had briefed the Trump children about the deal's progress at the time.
It turns out that NPR failed to apprehend that Trump Jr. was actually talking about two different deals.
Five hours later, the outlet tacked the following lengthy editor's note to the front of the story:
An earlier version of this report mischaracterized an answer Donald Trump Jr. gave to Senate investigators in 2017 about the prospective projects his family was negotiating with people in Moscow.

The story reported that Trump Jr.'s response — that negotiations on one project concluded by the end of 2014 — contrasted with the version of events as laid out in the guilty plea by Michael Cohen on Thursday. In fact, Trump Jr. and investigators were alluding to a different set of negotiations — not to a deal that Cohen was reportedly pursuing. Trump Jr. did acknowledge in his testimony that Cohen and another man were exploring a possible deal in Moscow in 2015 or 2016.

Trump Jr. did not address what Cohen has now admitted — that talks about such a deal continued at least into June 2016, longer than previously known and well into the presidential campaign.
This one could not be blamed on having a wrong source.
5. The Russians Are (Not) Hacking the Nation's Power Grid
On December 30, 2016, The Washington Post's Juliet Eilperin and Adam Entous made a startling claim that, if true, might have lead to armed hostilities between the United States and Russia. Luckily, those claims were completely false.
Relying on anonymous U.S. government sources within the Obama administration, Eilperin and Entous committed a grave bit of journalistic malpractice. They claimed that malicious hackers had infiltrated Vermont's electric grid by way of "[a] code associated with the Russian hacking operation dubbed Grizzly Steppe."
The next paragraph detailed the potentially fraught consequences:
While the Russians did not actively use the code to disrupt operations of the utility, according to officials who spoke on condition of anonymity in order to discuss a security matter, the penetration of the nation's electrical grid is significant because it represents a potentially serious vulnerability. Government and utility industry officials regularly monitor the nation's electrical grid because it is highly computerized and any disruptions can have disastrous implications for the function of medical and emergency services.
That story quickly unraveled. First, Burlington Electric issued a response noting that there wasn't any connection to the power grid whatsoever. Rather, there was simply one laptop that was infected with spyware.
The Post was then forced to change their story to reflect that only one laptop was affected by the would-be Russian breach. But even this was incorrect and required a fair amount of dissimulation. Forbes said that the Post misrepresented how their reporting had unfolded.
Rather than contacting the utility before publishing their sensational claim, the reporters only followed up with the party in question after their story had already been published and gone viral. Later reporting changes revealed that Russia wasn't actually involved at all. It was simply a lone piece of random malware on one employee's computer.
[image via KIRILL KUDRYAVTSEV/AFP/Getty Images]
Have a tip we should know? [email protected]