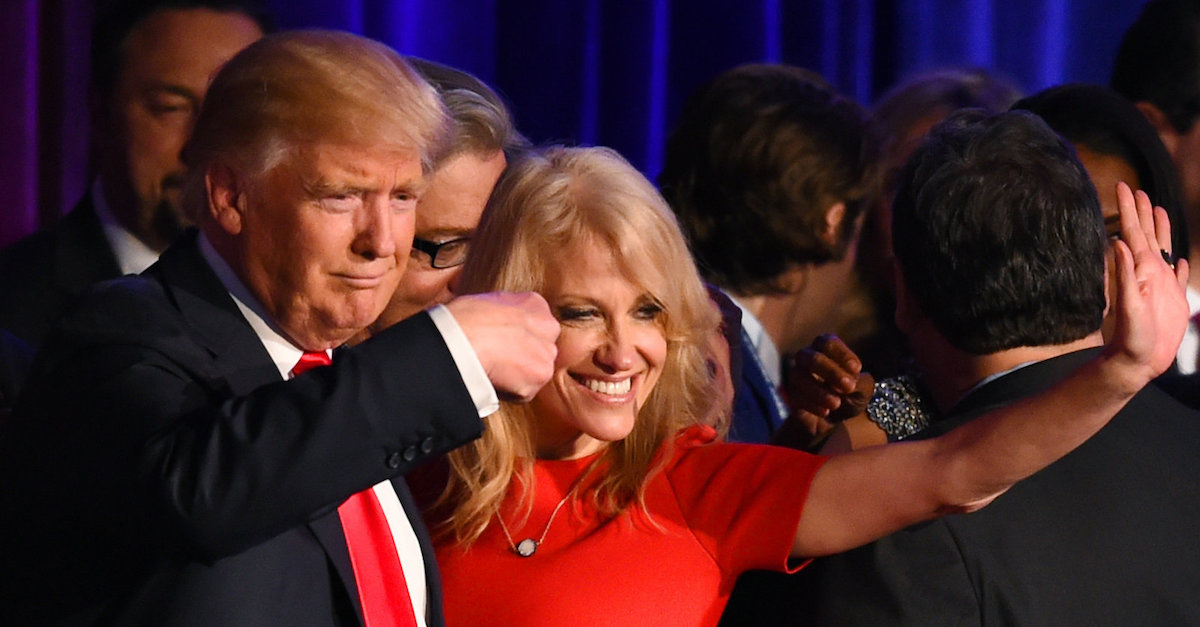 White House counselor Kellyanne Conway's attorney husband George Conway had a quip at the ready in response to the latest stage of President Donald Trump's ongoing feud with the New York Times.
The Times reported on Tuesday about Trump's "record $4.75 trillion budget"; there was also the separate headline, "Trump Retreats on Health Care After McConnell Warns It Won't Happen" that appears to have ruffled feathers. 
President Trump responded Wednesday morning on Twitter as he does.
"I was never planning a vote prior to the 2020 Election on the wonderful HealthCare package that some very talented people are now developing for me & the Republican Party. It will be on full display during the Election as a much better & less expensive alternative to ObamaCare," Trump tweeted. "This will be a great campaign issue. I never asked Mitch McConnell for a vote before the Election as has been incorrectly reported (as usual) in the @nytimes, but only after the Election when we take back the House etc. Republicans will always support pre-existing conditions!"
The Times communications Twitter account said that the news outlet stood by its reporting, and Times reporter Peter Baker replied, "Also, we weren't the ones who said he decided to delay it. He did: "I wanted to delay it myself."
Here was the paragraph in question:
Mr. Trump denied on Tuesday that Mr. McConnell asked him to back off, saying, "I wanted to delay it myself" because Republicans do not control the House. "So if we get back the House and on the assumption we keep the Senate and we keep the presidency — which I hope are two good assumptions — we're going to have a phenomenal health care," he said.
George Conway observed this back-and-forth and could only come to one conclusion.
"This is why his lawyers wouldn't let him talk to Mueller," he said.
Conway is, of course, referring to various quotes attributed to Trump's lawyers in the past. John Dowd, who was stridently against a sit-down interview with Special Counsel Robert Mueller, was once quoted calling Trump a "liar" and saying "Don't testify. It's either that or an orange jumpsuit." Dowd vehemently denied that.
[Image via Timothy A. Clary and AFP/Getty Images]
Have a tip we should know? [email protected]