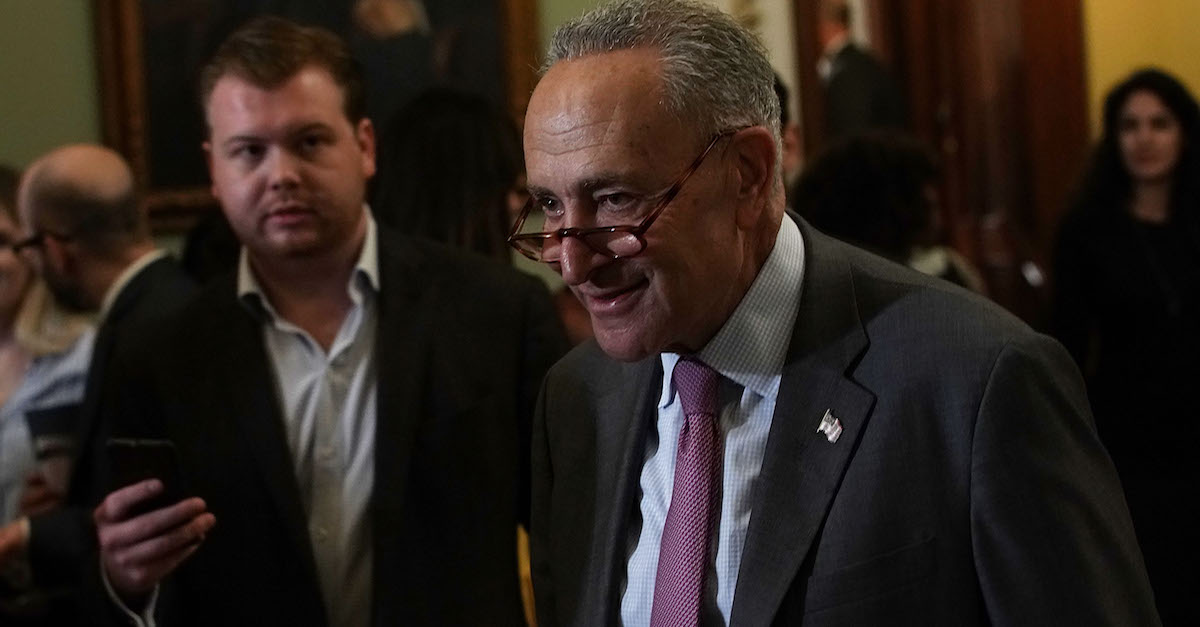 The official Senate Judiciary Committee Twitter account has been tearing into Sen. Chuck Schumer (D-N.Y.) on Tuesday afternoon for publicly saying that the FBI should brief the whole U.S. Senate before it decides if Brett Kavanaugh should sit on the Supreme Court.
Schumer said Monday that Democrats hoped "the FBI will be available to brief the Senate on the results of the investigation before a final floor vote." The FBI has been tasked with an investigation limited in time and scope into allegations against Kavanaugh.
The U.S. Senate agreed to have the FBI conduct a one-week investigation into the sexual assault and sexual misconduct claims made against Kavanaugh. Dr. Christine Blasey Ford, Deborah Ramirez and Julie Swetnick have all come forward with claims against the Supreme Court nominee. He has categorically denied all allegations.
At any rate, the Senate Judiciary Committee singled out Schumer for making remarks that would raise expectations among the American people that something that doesn't happen was on the table.
"What is @SenSchumer talking about? He knows @FBI doesn't brief the Senate on background investigations. It provides reports and the Senate makes decisions. That's how it always works, including during Justice Thomas' confirmation," the Senate Judiciary account tweeted.
The Committee then pointed to an Obama era bipartisan memo of 2009, suggesting that this agreement was still binding. Two of the names in signatures at the bottom of the memo include then-Sen. Jeff Sessions (R-Ala.) and current committee member Sen. Patrick Leahy (D-Vt.).
That memo explains who has access to FBI background reports, plus how they are to be handled and returned.
It says that senators on the Committee, and Majority and Minority Leaders can review the FBI reports. It also says that any senator can request an oral briefing from a "Designated Staff Member" about the contents of the investigation."
In a follow-up tweet, the Judiciary Committee dinged Schumer for "[not] actually car[ing] about the @FBI's background investigations."
"[If he cared], he would have reviewed the files already in the committee's possession. Has he? The committee has no record that he has since Judge Kavanaugh's #SCOTUS nomination," the committee replied.
They said Schumer was "attempting to move the goal posts yet again."
[Image via Alex Wong/Getty Images]
Have a tip we should know? [email protected]