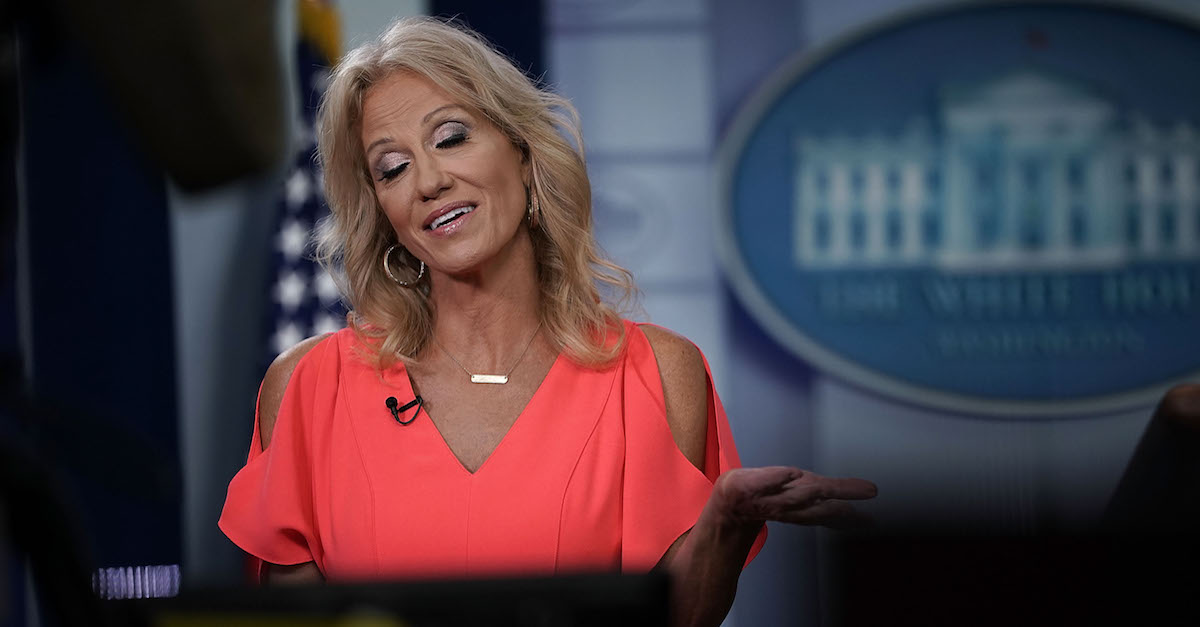 Kellyanne Conway's husband George was not about to let President Donald Trump's Friday morning tweet storm pass.
In case you missed it, Trump has been increasing his Twitter mentions of Attorney General Jeff Sessions and particularly commented on Sessions' statement that the "Department of Justice will not be improperly influenced by political considerations."
Trump said this is "GREAT" and "what everyone wants."
"Look into all of the corruption on the 'other side,'" he said, railing against the familiar bogeymen special counsel Robert Mueller, fired FBI Director James Comey, and so on.
Conway replied to the "President."
"What everyone should want, and the country needs, is a 'President' capable of comprehending what it means to 'take Care that the Laws be faithfully executed," he tweeted.
If you're wondering what it's like at the Conway household given that Kellyanne defends Trump for a living and given that George doesn't hesitate to say what's on his mind, we already know.
This is far from Conway's first rodeo when it comes to needling the Trump Administration, even though it is his wife's employer.
Most recently, he effortlessly fact-checked President Trump's Ohio popularity claims.
Conway has criticized the Trump Administration on the national debt, pushed back against the idea that Special Counsel Robert Mueller's appointment is "unconstitutional" and retweeted a tweet by CNN anchor Jake Tapper criticizing Trump for saying the findings of Inspector General Michael Horowitz's report on FBI conduct related to the Hillary Clinton email investigation. Trump said that the report exonerated him of collusion, when the report actually didn't address him at all.
Then there was his response to the Trump-Putin summit.
Conway was in the news recently for a different reason. Former Trump staffer Omarosa Manigault Newman has a book coming out. As part of that, she alleged Trump called Conway racial slurs like "f*cking flip" and "goo-goo," denigrating his Filipino heritage. Conway said that this was "not credible, and indeed is ridiculous."
[Image via Alex Wong/Getty Images]
Have a tip we should know? [email protected]