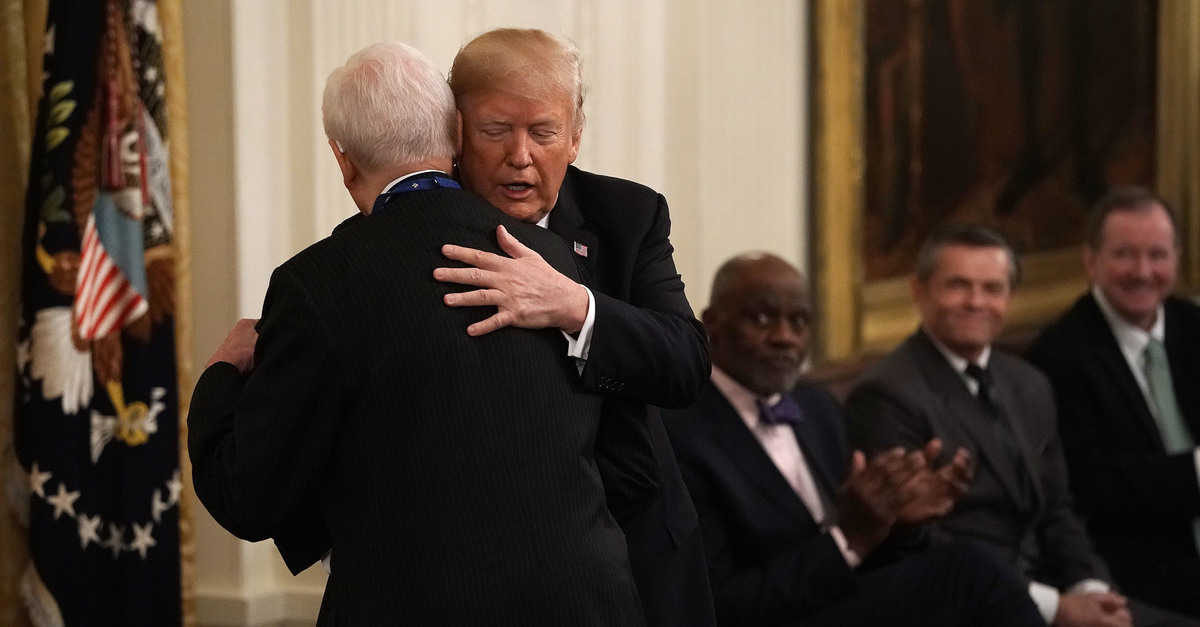 Orrin Hatch is the longest-serving Republican in the U.S. Senate–like, ever. As such, his words carry at least a modicum of authority among his caucus. Hatch, in his own words, doesn't care if President Donald Trump broke the law.
CNN's Manu Raju caught up with Hatch late Monday afternoon and asked Utah's senior senator about the Friday news that prosecutors in the Southern District of New York (SDNY) had determined Trump directed his longtime attorney and fixer Michael Cohen to commit campaign finance violations. Hatch was unshaken.
"The Democrats will do anything to hurt this president," the long-serving senator said.
Democrats have nothing to do with the SDNY's prosecution of Cohen or what they've alleged against Trump during the course of said prosecution. That ongoing investigation is being undertaken by career prosecutors in the Manhattan U.S. Attorneys office–an office currently controlled by a Republican appointee who was installed by President Trump himself. This information was relayed to Hatch. He was still unmoved.
"Okay but I don't care; all I can say is he's doing a good job as President," the octogenarian former boxer said.
Hatch elaborated on his steadfast support for the 45th president:
I don't think he was involved in crimes but even then, you know, you can make anything a crime under the current laws; if you want to you can blow it way out of proportion–you can do a lot of things.
The Senator who grew up in poverty knows a thing or two about making something out of nothing.
Here's what Hatch had to say about Bill Clinton just before voting to find the 42nd president guilty of impeachable offenses. Per the New York Times:
Committing crimes of moral turpitude such as perjury and obstruction of justice go to the heart of qualification for public office. These offenses were committed by the chief executive of our country, the individual who swore to faithfully execute the laws of the United States.

This great nation can tolerate a President who makes mistakes. But it cannot tolerate one who makes a mistake and then breaks the law to cover it up. Any other citizen would be prosecuted for these crimes.
How times have changed.
Hatch offered a parting assessment of his newfound legal latitude.
"President Trump before he became president that's another world," the one-time chicken coop-dweller said. "Since he's become president this economy has charged ahead…And I think we ought to judge him on that basis other than trying to drum up things from the past that may or may not be true."
[image via Alex Wong/Getty Images]
Follow Colin Kalmbacher on Twitter: @colinkalmbacher
Have a tip we should know? [email protected]