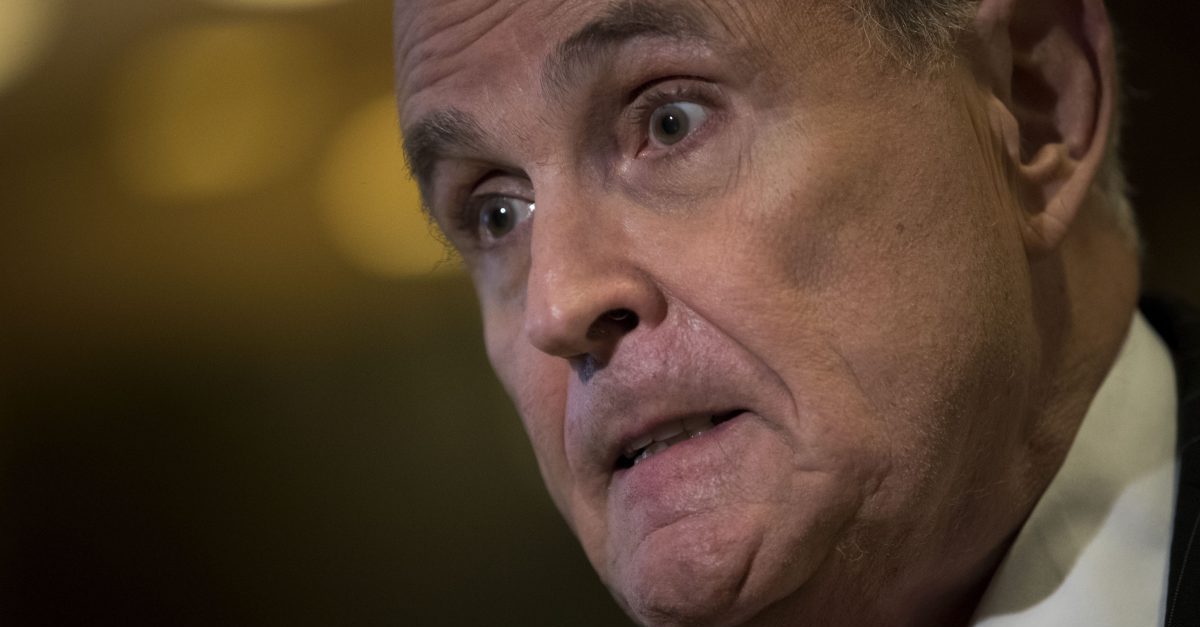 Rudy Giuliani has been active on Twitter Friday morning, but he's garnered the wrong kind of attention. After quoting a line from an article that he apparently found on Wikipedia, he faced criticism, not just for missing its context, but for seemingly not understanding certain relevant geopolitical issues.
First, the quote:
Since 2009 Steele has not been to Russia, or visited any former Soviet states and in 2012, an Orbis informant quoted an FSB-agent describing him as an "enemy of Mother Russia".[1]

— Rudy Giuliani (@RudyGiuliani) March 22, 2019
Then, his explanation:
The below excerpt from Wikipedia, if true, is another indication that the Steele Dossier about Russia is a phony work of political opposition research. Comey never bothered to check when Steele was last in Russia. So where was it written and who wrote it? We demand answers!

— Rudy Giuliani (@RudyGiuliani) March 22, 2019
Giuliani claimed that because Christopher Steele, who compiled a now-infamous dossier related to President Donald Trump and Russia, never went to Russia while he performed his research, it couldn't have been reliable and that any reliance on he dossier by the FBI was improper. Trump supporters believe that details in the dossier provided the basis for the FBI's investigation of Trump campaign ties to Russia, which is now led by Special Counsel Robert Mueller. Democrats and FBI officials dispute this, stating that the FBI did not improperly rely on the dossier, and that Trump campaign member George Papadopoulos's comments about contact with a professor about Russia having dirt on Hillary Clinton were what led to the probe.
As it turns out, Giuliani may have left out some key details in his tweets. Enter Politico reporter Kyle Cheney. Cheney pointed out that the "excerpt from Wikipedia" that Giuliani referenced, was taken from a New Yorker report by Jane Mayer. Indeed, Giuliani's tweet included a footnote number, which directs to Mayer's March 2018 article. The footnote is part of the Wikipedia entry for Christoper Steele.
The quote came from @JaneMayerNYer's story, it's not just an "excerpt from Wikipedia." The story's following sentence notes: "it's clear that many Russian contacts can be interviewed elsewhere, and London is the center of the post-Soviet Russian diaspora." https://t.co/RHsC9WAz55

— Kyle Cheney (@kyledcheney) March 22, 2019
Cheney also noted that immediately after this information in Mayer's article, she wrote about how Russian contacts are often interviewed outside the country. That means that Steele would not have had to go to Russia to speak to Russian informants. In fact, Steele–a former British spy–may have been able to meet with them in London, which Mayer described as "the center of the post-Soviet Russian diaspora.
After Cheney's tweet, CNN analyst Josh Campbell weighed in, blasting Giuliani for relying on Wikipedia in the first place.
I'm still stuck on any lawyer using Wikipedia as the foundation for an argument. Cool, cool.

— Josh Campbell (@joshscampbell) March 22, 2019
[Image via Drew Angerer/Getty Images]
Have a tip we should know? [email protected]