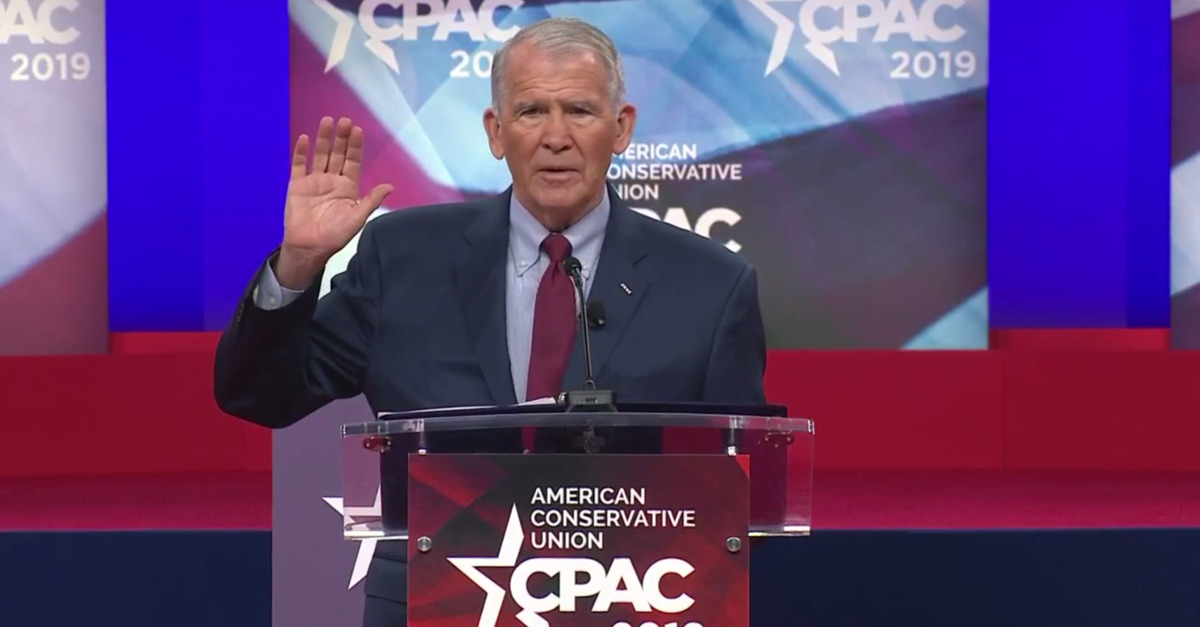 House Republicans made it clear that they were concerned about perjury during Michael Cohen's Wednesday hearing in front of the House Oversight and Reform Committee. On Thursday, however, the Conservative Political Action Conference (CPAC) gave a warm welcome to admitted perjurer Oliver North.
During the Cohen hearing, Rep. Paul Gosar (R-Ariz.) noted that President Donald Trump's former attorney and fixer "conflicted [his] testimony" in front of the committee.
"You're a pathological liar," Gosar said. "You don't know truth from falsehood."
"Liar, liar, pants on fire," Gosar mocked at another point. "No one should ever listen to you and give you credibility. It's sad."
Rep. Mark Meadows (R-N.C.) tore into Cohen from his perch in front of a sign featuring Cohen's face that repeated Gosar's criticism. During his questioning time, Meadows accused Cohen of lying during the hearing itself by not being forthcoming about his foreign contacts.
A theme quickly developed.
"We are supposed to take what you say, Mr. Cohen, at this time about President Trump as the truth," added Rep. Carol Miller (R-West Virginia). "But you're about to go to prison for lying. How can we believe anything you say? The answer is we can't."
Congressional Republicans mainly repeated that Cohen's lack of credibility for having already lied to Congress meant that "no one should believe a word he says in his testimony this week."
Rep. Jim Jordan (R-Ohio) also criticized Cohen for his prior record.
"It certainly is the first time a convicted perjurer has been brought back to be a star witness in a hearing." On Thursday afternoon, Jordan and Meadows formally accused Cohen of perjuring himself.
On Thursday morning, conservative Republicans welcomed Oliver North to the CPAC stage.
Recall: North was one of the key figures in the Iran-Contra Affair. The 1980s scandal was a complicated plot whereby the Reagan administration surreptitiously sold guns to the Islamic Republic of Iran–in violation of a longstanding U.S. arms embargo. The proceeds from that illegal gun-running operation were then used to train and arm right-wing Nicaraguan death squads known as the Contras.
Democrats in Congress had recently passed several laws that made it illegal for the U.S. to continuing supporting the right-wing insurgency against the internationally-recognized government of Nicaragua, but the Reagan administration consistently flouted these laws and North took point on ensuring the money and weapons kept flowing.
Called to Congress to account for his actions in 1986, North initially lied. When he returned to face televised congressional hearings in 1987, he fessed up to his subterfuge and was eventually indicted.
A 1989 article from the Los Angeles Times sets the scene:
"Did you tell the truth at that meeting on Aug. 6, 1986?" defense lawyer Brendan Sullivan asked North during his second day of testimony at his criminal trial.

"No," North said. "I . . . went into the meeting not believing it would be illegal not to tell Congress the truth. And that's why I didn't think the meeting would be a good idea."
North was convicted of three felonies, which were eventually overturned on a technicality — namely, that prosecutors couldn't prove his televised hearings (where he admitted to the perjury) hadn't been seen by the sequestered jury. Since then, North's star has risen among conservative Republicans.
During his well-received CPAC speech, North spoke about his fidelity to the U.S. Constitution, with a particular focus on the Second Amendment.
"It's the purest metaphor for freedom," he said of the right to bear arms, to hearty applause.
Last year, North was named president of the National Rifle Association.
[image via CPAC/screengrab]
Have a tip we should know? [email protected]