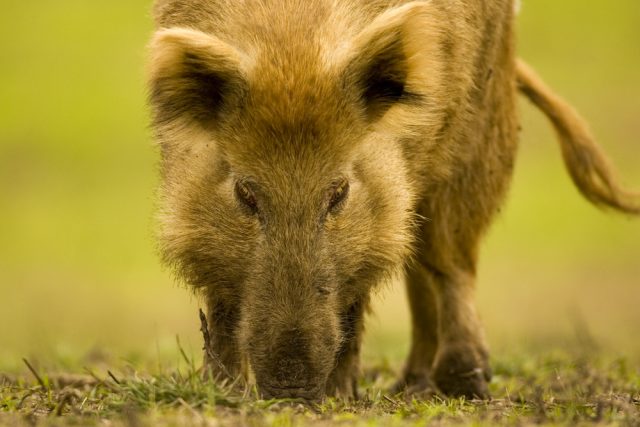 A car crash caused by a feral hog killed three people in Texas over the holiday weekend.
According to the Uvalde Leader-News, the car crash occurred sometime between 11:30 and 11:50 p.m. on Christmas Day.
Ruby Garza and Julia Vasquez were traveling north on Farm-to-Market Road 481–known to locals variously as Old Eagle Pass Road and Old Uvalde Road–when the hog appeared. Garza's Ford Expedition struck the hog and the driver lost control.
At roughly the same time, U.S. Border Patrol Agent Antonio Cordova was traveling southbound on the thrice-named road mentioned above–also known to locals as a notoriously dangerous stretch of highway. The 27-year-old had just finished his shift at the Uvalde, Texas U.S. Border Patrol Station and was heading home.
After the encounter with the wild pig, Garza's out-of-control Expedition struck Cordova's Mercedes Benz SUV head-on. Both vehicles then burst into flames.
According to the Eagle Pass Business Journal, citing an initial investigation by the Texas Department of Public Safety, Garza and Cordova died at the scene of the accident. Vasquez likely died while en route to a nearby hospital–she was pronounced dead at Uvalde Memorial when she arrived.
Also traveling in the Expedition were Mayra Vasquez and Naomi Acuna–both of whom survived but whose conditions are unknown. They are currently recuperating at San Antonio-area hospitals.
Wild pigs in Texas are fairly massive animals–frequently reaching weights of up to 400 pounds. Commonly referred to by the somewhat contradictory term "feral hog," such pigs are a verified nuisance in the Lone Star State. Annually, feral hogs are responsible for some $400 million worth of damage to agriculture and livestock in Texas alone–where an estimated 2-3 million wild pigs live.
[image via shutterstock.com/Fred LaBounty]
Follow Colin Kalmbacher on Twitter: @colinkalmbacher
Have a tip we should know? [email protected]