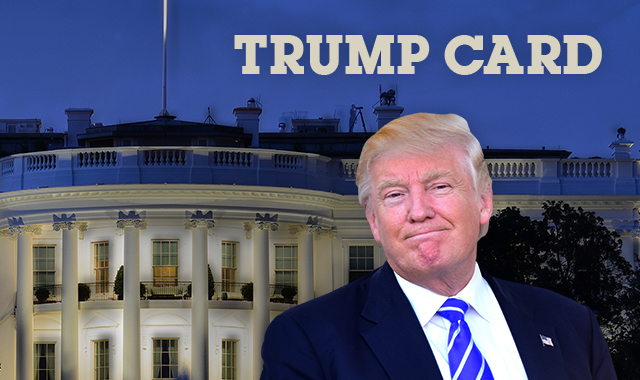 It's tough to keep up, so we at LawNewz have taken the liberty of making things easier by providing a weekly list of top Trump legal developments. These updates will include executive orders, lawsuits and much more, and will appear every Friday. If you'd like to review the update via email, sign up here.
Trump Card: Week of February 6
Ninth Circuit Smacks Down Trump's Executive Order on Immigration
Last Tuesday night, DOJ lawyer August Flentje went head-to-head (or at least speakerphone-to-speakerphone) with Washington state Solicitor General Noah Purcell before a three-judge panel of the Ninth Circuit Court of Appeals. The world tuned in to hear the judges pummel lawyers on both sides with questions about the effects of the January 27 "travel ban" executive order. Flentje's performance, a stuttering, stammering tour de stress, was largely panned by critics. Thursday evening, the Ninth Circuit slammed down the appeal of "so-called judge" James Robart's ruling, reminding everyone that SCOTUS isn't the only bench in town. In the opinion, Judges Michelle Friedland, William Canby Jr., and Richard Clifton specifically called out the Government for failing to even try to explain its need for the Executive Order, and for presuming to tell the Ninth Circuit to keep its nose out of executive business.  The opinion was 30 pages long, but the most important words were those that echoed the feelings of many Americans: "We disagree."
Moments after the decision was announced, Trump grabbed his phone and sent out the following:
SEE YOU IN COURT, THE SECURITY OF OUR NATION IS AT STAKE!

— Donald J. Trump (@realDonaldTrump) February 9, 2017
If only SCOTUS could respond, House of Cards-style: "We make the Court."
2. Vote Over Education Secretary Gets a Little Grizzly
Betsy DeVos, the most controversial of Trump's cabinet picks, was confirmed as Secretary of Education this week. DeVos has been widely criticized for her lack of direct experience with public schools, her support of school vouchers and charter schools, and the unnervingly-convenient way in which her hefty campaign contributions paved the way to her DOE seat. The vote was a [sort of] nail-biter, ending with a "nay" from all 48 Dems, 2 Independents, and 2 Republicans (the usual suspects, Susan Collins of Maine and Lisa Murkowski of Alaska). Vice President Mike Pence cast the tie-breaking vote to confirm DeVos. Shortly thereafter, millions of Americans began Googling, "what does the Department of Education do?"
3. Rent Control Gets a Whole New Meaning
News broke this week that Trump's decision to split his time between New York and D.C. is going to cost taxpayers bigly. The Department of Defense will join the Secret Service in becoming Trump Tower's newest tenants, at a price tag of over $1.5 million a year. Constitutional nerds reminded us that the "Domestic Emoluments Clause," is like that box of baking soda in your fridge: you never think about it, but it's probably doing something pretty important. Hint: presidents aren't supposed to profit off the government except for their salaries. Cue the battle cry from Team Impeachment. Karen Pence may not be choosing window treatments for the residence just yet, but this is one worth watching.
4. Turns Out, Not Everyone Loves a Two-for-One Deal
Several organizations voiced their displeasure with Trump's January 30th Executive Order in the form of a federal lawsuit. Public Citizen, a consumer advocacy group, the Communications Workers of America, and the Natural Resources Defense Council banded together to fight against the order's direction that federal administrative agencies repeal two regulations for each new one they adopt. The 49-page Complaint alleges the standard "this order goes beyond the president's authority under the Constitution," and the tried and true "this order is detrimental to the health and safety of Americans and the environment." We'll see if the court is more enamored with President Trump's commitment to legislative streamlining, or with the plaintiffs' argument that requiring the repeal of two motor vehicle safety regs every time OSHA needs a new one is as irrational as it sounds.
5. Nordstromgate
The "Dead Cat of the Week" award goes to the Trump v. Nordstrom feud, following the retailer's announcement that it'll be pulling Ivanka's clothing line from stores due to "poor performance." Whether the dip in sales resulted directly from the #GrabYourWallet campaign is unclear, but POTUS wasted no time reminding us that he's a Tiger Dad. Both Donald Trump and Sean Spicer publicly rebuked Nordstrom for its choice, and Nordstrom made up for its lost sales with soaring stock prices.   The real winners of this feud were the analysts, strategists, ethicists, and economists who got tons of airtime opining on whether a president's tweet-bashing a major retailer was a mortal or a venial sin.
6. Nordstromgate 2: The Curse of Conway
The Trump team is apparently determined not to let the Nordstrom thing go; Spicer tried his hand at spin, when he gave a presser that said, "This is a direct attack on his policies and her name and so there's clearly an attempt for [Trump] to stand up for her being maligned because they have a problem with his policies." A solid try, but most of the press pool were too distracted by visions of Melissa McCarthy dancing in their heads to care.
Kellyanne Conway decided to bring up the rear with an appearance on Fox & Friends, where she lamented Nordstrom's decision to nix Ivankawear. Conway may have stepped a bit over the line, though, when she said, "This is just [a] wonderful line," she added. "I'm going to give a free commercial here. Go buy it today, everybody. You can find it online." As it turns out, there were more Google searches for ethics rules than for peep-toes, and in poured the accusations that Conway's TV teaser violated federal ethics rules. Sean Spicer fielded a question about Conway's briefing-room commercial with a morose, "Kellyanne has been counseled, and that's all we're going to go with." Well, if she's been counseled, then we're good. Or something.
7. When POTUS Goes Low, Gorsuch Goes High
POTUS ruffled some judicial feathers this week when he tweeted that Federal District Judge James Robart was a "so-called judge" who issued a "ridiculous" decision that "will be overturned." Trump's tweet captured his ire over Judge Robart's temporary restraining order halting enforcement of the controversial executive order on immigration. While the DOJ handled the legal side of things, Trump bashed every judge west of Colorado to anyone who'd listen. Neil Gorsuch, heir to the Iron Throne of Scalia, showcased his own PR chops when he reminded Trump that badmouthing federal judges isn't a good look. For those keeping score at home, that's Team NonPartisan: 1, Team Garland: 0.
Have a tip we should know? [email protected]
Elura Nanos - Columnist & Trial Analyst, Law & Crime; CEO Lawyer Up