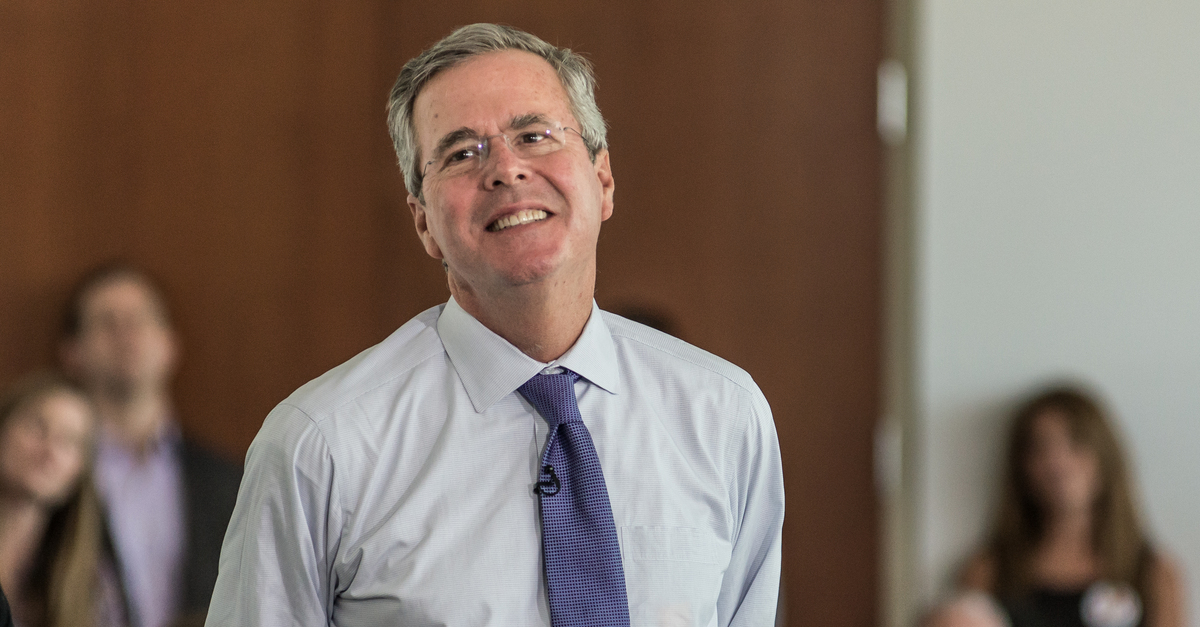 The Federal Election Commission (FEC) on Monday handed down significant fines against a Chinese corporation and a Jeb Bush-oriented Super PAC over unlawful foreign interference in the 2016 presidential election.
The FEC's 12-page conciliation agreement with Chinese-owned entity American Pacific International Capital, Inc. (APIC) and the Right to Rise Super PAC details an agreement whereby APIC funneled $1.3 million to Right to Rise in order to support Bush's failed candidacy.
This transnational agreement admittedly came about due to the intervention of Bush family scion and sixth sibling Neil Bush–who sits on APIC's board of directors with the foreign company's majority interest holders Gordon Tang and Huaidan Chen.
The agreement notes:
In January of 2015, prior to APIC's contributions to Right to Rise USA, Neil Bush, a member of APIC's corporate board, contacted Wilson Chen to ask whether APIC would make a contribution to support his brother Jeb Bush's presidential campaign, Neil Bush later had a conversation with Tang on the weekend of February 6, 2015, in which the two discussed the possibility of APIC making a contribution to support Jeb Bush's presidential campaign.
The suggestion was exceedingly well taken.
"APIC contributed $1,000,000 to Rise to Rise USA on March 25, 2015, and contributed $300,000 to Rise to Rise USA on June 25, 2015," the agreement between the fined parties and the FEC notes.
It was also illegal.
Federal law–contained at 52 U.S.C. § 30121–expressly prohibits a contribution or donation of money or other thing of value" in connection with a federal, state, or local election.
Under the terms of the statute, "foreign national" applies to both foreign citizens and to "a partnership, association, corporation, organization, or other combination of persons organized under the laws of or having its principal place of business in a foreign country."
APIC is actually a California-based entity. But it's essentially a legal mirage because the corporation is wholly-owned by China-based Jag Pacific, Ltd.–itself owned by Chinese citizens Tang and Huaidan Chen.
Right to Rise's legal counsel drafted a memo which assured everyone involved that the illicit contributions were on the up-and-up because Wilson Chen is a U.S. citizen and because "the funds used to make the contributions were generated from APIC's U.S. domestic activities."
The FEC clearly disagreed but "did not find that the violations were knowing and willful," so no criminal charges are in the offing.
Monday's decision stems from an August 2016 complaint filed by the non-partisan campaign finance watchdog group Campaign Legal Center (CLC). That complaint was directly based on a bombshell exposé published by The Intercept regarding the legally corrosive staying power of the perennially controversial Citizens United ruling.
CLC heralded the FEC's decision in a statement obtained by Law&Crime.
"Today's action is a rare and remarkable step by the FEC, and a reminder that safeguarding our elections against foreign interference is in America's vital national security interests," said Trevor Potter, president of CLC, and a former Republican Chairman of the FEC.
"This illegal $1.3 million contribution is unmistakable proof that Citizens United opened the floodgates to foreign money in the U.S., and it is surely the tip of the iceberg," Potter continued. "The fact that the FEC, which so often deadlocks and therefore fails to act in violations, could agree on this one highlights the very real danger this sort of activity poses to our democracy."
The fines handed down, however, don't quite match the initial contributions.
APIC was fined $550,000 for violating the foreign national contribution ban, and Right to Rise was fined $390,000 for soliciting the contribution.
[image via Sean Rayford/Getty Images]
Have a tip we should know? [email protected]