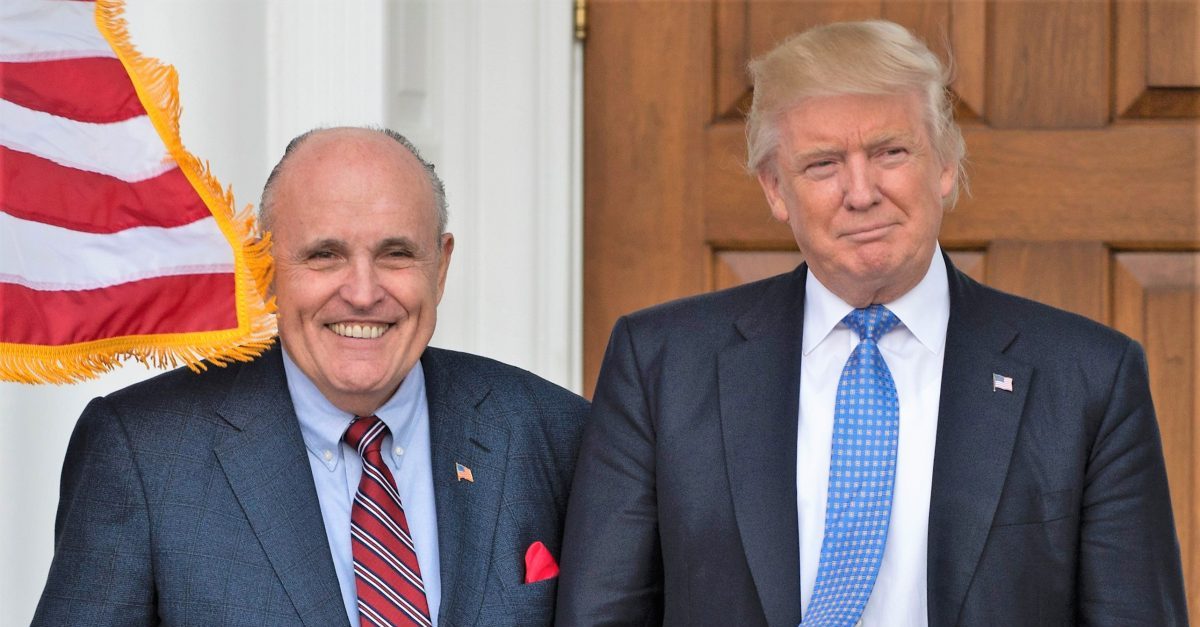 An intermediate New York appellate court on Thursday suspended the law license of Rudy Giuliani due to "uncontroverted evidence" that the former U.S. attorney, New York City mayor, and personal attorney to former president Donald Trump made "demonstrably false and misleading" statements concerning alleged voter fraud in the 2020 presidential election.  According to a public disciplinary opinion, the court's rationale was linked directly to statements made and legal activities undertaken by Giuliani on Trump's behalf in connection with the 2020 election cycle.
"[W]e conclude that there is uncontroverted evidence that respondent communicated demonstrably false and misleading statements to courts, lawmakers and the public at large in his capacity as lawyer for former President Donald J. Trump and the Trump campaign in connection with Trump's failed effort at reelection in 2020," the court said in a summary paragraph.  "These false statements were made to improperly bolster respondent's narrative that due to widespread voter fraud, victory in the 2020 United States presidential election was stolen from his client. We conclude that respondent's conduct immediately threatens the public interest and warrants interim suspension from the practice of law, pending further proceedings before the Attorney Grievance Committee."
The 33-page unanimous and unsigned per curiam opinion by the Appellate Division's First Judicial Department says Giuliani's license is suspended immediately:
It is further Ordered that respondent is commanded to desist and refrain from the practice of law in any form, either as principal or agent, clerk or employee of another; that respondent is forbidden to appear as an attorney or counselor-at-law before any court, judge, justice, board or commission or other public authority; that respondent is forbidden to give another an opinion as to the law or its application or advice in relation thereto, all effective the date hereof, until such time as disciplinary matters pending before the Committee have been concluded and until further order of this Court.
"Within 20 days of the date of service of this decision, respondent may submit a request, in writing, to this Court for a post suspension hearing," the decision also says.
The suspension was the result of the Attorney Grievance Committee petitioning the court for Giuliani's "immediate suspension" after "numerous complaints of [Giuliani's] alleged professional misconduct."
"Under certain circumstances, such serious interim relief is available, pending a full formal disciplinary proceeding," the decision explains.
It goes through great lengths to reiterate that the "ultimate purpose of any disciplinary proceeding . . . is not to impose punishment . . . but rather to protect the public in its reliance upon the integrity and responsibility of the legal profession" (internal quotations omitted).
In a statement to Law&Crime, Giuliani's attorneys reacted by calling the move "unprecedented."
"We are disappointed with the Appellate Division, First Department's decision suspending Mayor Giuliani prior to being afforded a hearing on the issues that are alleged," said Giuliani attorneys John M. Leventhal and Barry Kamins of the New York City law firm Aidala, Bertuna & Kamins. Both Leventhal and Kamins are retired judges.
"This is unprecedented as we believe that our client does not pose a present danger to the public interest," the defense attorneys' statement continued. "We believe that once the issues are fully explored at a hearing Mr. Giuliani will be reinstated as a valued member of the legal profession that he has served so well in his many capacities for so many years."
The suspension order zeroed in on the following conduct — in essence re-litigating the 2020 election:
Respondent [Giuliani] repeatedly stated that in the Commonwealth of Pennsylvania more absentee ballots came in during the election than were sent out before the election. The factual "proof" he claimed supported his conclusion was that although Pennsylvania sent out only 1,823,148 absentee ballots before the election, 2,589,242 million absentee ballots were then counted in the election. This factual statement regarding the number of ballots mailed out before the election was simply untrue. The true facts are that 3.08 million absentee ballots were mailed out before the general election, which more than accounted for the over 2.5 million mail-in ballots that were actually tallied. Notwithstanding the true facts, respondent repeatedly advanced false statements that there were 600,000 to 700,000 fabricated mail-in ballots, which were never sent to voters in advance of the election. Respondent made these false claims during his November 8, 2020 radio program, Uncovering the Truth with Rudy Giuliani & Dr. Maria Ryan, during a November 25, 2020 meeting of the Republican State Senate Majority Policy Committee in Gettysburg, Pennsylvania, during a December 2, 2020 meeting of the Michigan House Oversight Committee, during his December 17, 2020 broadcast of the radio show Chat with the Mayor, and he repeated it during an episode of Steve Bannon's the War Room: Pandemic podcast on December 24, 2020.
Giuliani's defense was to point the finger elsewhere, and the tribunal was not impressed:
Respondent does not deny that his factual statement, that only 1.8 million mail-in ballots were requested, was untrue. His defense is that he did not make this misstatement knowingly. Respondent claims that he relied on some unidentified member of his "team" who "inadvertently" took the information from the Pennsylvania website, which had the information mistakenly listed (Giuliani affidavit ¶49). There is simply no proof to support this explanation. For instance, there is no affidavit from this supposed team member who is not identified by name or otherwise, nor is there any copy of the web page that purportedly listed the allegedly incorrect data. In fact, the only proof in this record is the official data on the Pennsylvania open data portal correctly listing the ballots requested as 3.08 million.
A footnote explains further:
In opposition to this motion, respondent refers to affidavits he has not provided (Giuliani affidavit ¶¶11, 50, 61, 62, 66). He also relies on a "confidential informant" (Giuliani affidavit ¶82). We do not understand, nor does respondent explain why, as a private attorney seemingly unconnected to law enforcement he would have access to a "confidential informant" that we cannot also have access to. At yet another point respondent claims he relies on a Trump attorney who chooses not to be identified (Giuliani affidavit ¶43). Respondent also refers to hundreds of witnesses, experts, and investigative reports, none of which have been provided or identified (Giuliani affidavit ¶14) and an Excel spreadsheet, also not provided, purportedly listing the names of thousands of deceased voters who allegedly cast ballots in Michigan (Giuliani affidavit ¶51).
The opinion goes on to characterize Giuliani as a bumbling attorney who was correct on neither the facts nor the law. The court keyed in, for instance, on this exchange in a Pennsylvania courtroom:
THE COURT: So it's correct to say then that you're not alleging fraud in the amended complaint?

GIULIANI: No, Your Honor, it is not, because we incorporate by reference in 150 all of the allegations that precede it, which include a long explanation of a fraudulent, fraudulent process, a planned fraudulent process.

THE COURT: So you are alleging fraud?

GIULIANI: Yes, Your Honor.
And then:
THE COURT: So the amended complaint — does the amended complaint plead fraud with particularity?

GIULIANI: No, Your Honor. And it doesn't plead fraud. It pleads the — it pleads the plan or scheme that we lay out in 132 to 149 without characterizing it.
"Respondent repeatedly represented to the court that his client . . . was pursuing a fraud claim, when indisputably it was not," the disciplinary order said. "Respondent's mischaracterization of the case was not simply a passing mistake or inadvertent reference."
"Respondent argues that there was no misconduct because he truthfully told the court that day that there were no fraud claims," the order continued. "This defense rings hollow. Respondent's original position, that there was a fraud claim, was made despite an amended complaint in which his very own client withdrew any fraud related claim."
The order went on to say that Giuliani pressed incorrect assertions that "dead people voted" in Philadelphia and about Dominion Voting Systems "machines manipulating the vote tallies" in Georgia. Giuliani failed to note that a "hand audit" had "confirmed the results of the election with a zero percent risk limit" in the Peach State, the order states. Giuliani also failed to note that one of the "dead people" he claimed had voted in Pennsylvania actually had not; the voter's name was "formally cancelled" from the rolls "three months after he died."
Again, from the disciplinary order:
As for respondent's argument that his misstatements were unknowing, respondent fails to provide a scintilla of evidence for any of the varying and wildly inconsistent numbers of dead people he factually represented voted in Philadelphia during the 2020 presidential election. Although respondent assured the public that he was investigating this claim, respondent has not provided this tribunal with any report or the results of any investigation which supports his statements about how many dead voters he claims voted in Philadelphia in the 2020 presidential election. Respondent claims his statements were justified because the state of Pennsylvania subsequently agreed to purge 21,000 dead voters from its rolls in 2021. This fact, even if true, is beside the point. This statistic concerns the whole state. Purging voter rolls does not prove that the purged voters actually voted in 2020 and per force it does not prove they voted in Philadelphia. It does not even prove that they were dead in November 2020. Moreover, the number of statewide purged voters (21,000) bears no correlation to the numbers of dead voters respondent factually asserted voted in Philadelphia alone (either 8,000 or 30,000). Clearly any statewide purging of voters from the voting rolls in 2021 could not have provided a basis for statements made by respondent in 2020, because the information did not exist.
The order further says Giuliani was incorrect factually on additional claims.
"At various times, respondent claimed that 65,000 or 66,000 or 165,00 underage voters illegally voted in the Georgia 2020 election," the order states. "The Georgia Office of the Secretary of State undertook an investigation of this claim. It compared the list of all of the people who voted in Georgia to their full birthdays. The audit revealed that there were zero (0) underage voters in the 2020 election."
And, there's more:
Respondent stated to lawmakers, and the public at large, that more than 2,500 Georgia felons voted illegally. The Georgia Secretary of State also investigated this claim. By comparing lists from the Departments of Corrections and Community Supervision, with the list of people who actually voted in November 2020, the Secretary of State identified a universe of 74 potential felony voters, who were then investigated. Even if all 74 identified persons actually voted illegally, the number is nowhere near the 2,500 that respondent claimed and the number would, in any event, be statically irrelevant in supporting a claim that the election was stolen.
Giuliani was admitted to practice law in New York on June 25, 1969, the suspension order states.
Read the full document below:
Editor's note:  this report, which began as a breaking news piece, has been substantially updated.
Jerry Lambe and Colin Kalmbacher contributed to this report.
[image via DON EMMERT/AFP/Getty Images]
Have a tip we should know? [email protected]
Aaron Keller - Deputy Editor-in-Chief