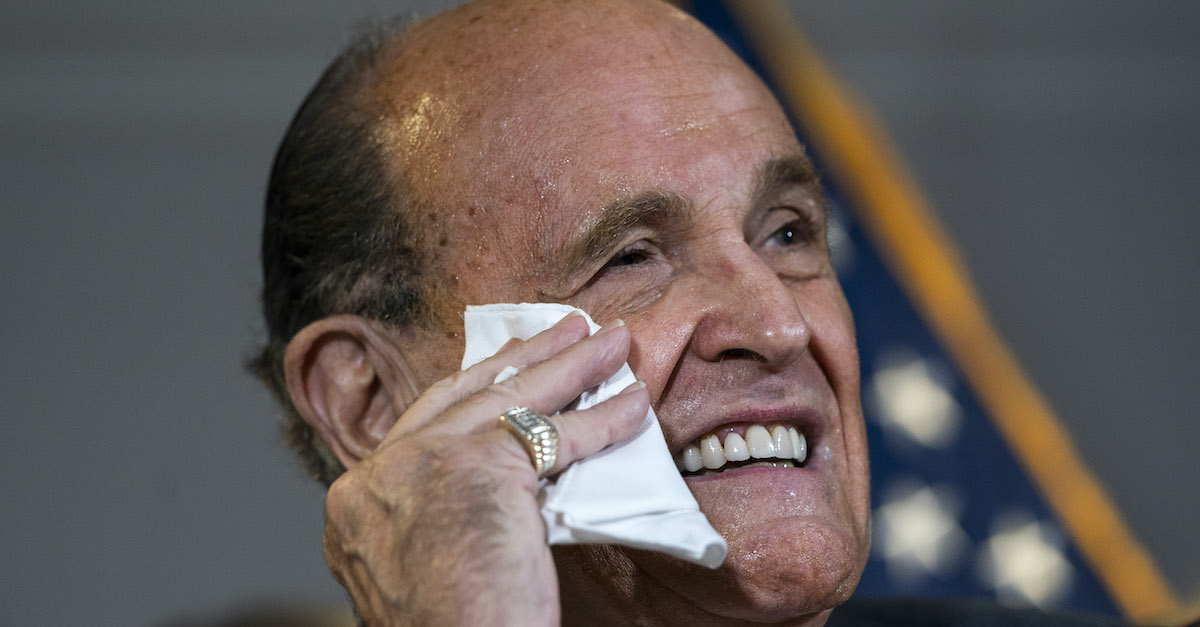 Leading a unanimous three-member panel, a federal appellate judge appointed by outgoing President Donald Trump upheld a blistering lower court ruling that said the Trump campaign and Rudy Giuliani's attempt to block certification of the election results in Pennsylvania was a meritless endeavor.
"Free, fair elections are the lifeblood of our democracy," U.S. Circuit Judge Stephanos Bibas wrote Friday for the unanimous three-judge panel. "Charges of unfairness are serious. But calling an election unfair does not make it so. Charges require specific allegations and then proof. We have neither here."
"The Trump Presidential Campaign asserts that Pennsylvania's 2020 election was unfair. But as lawyer Rudolph Giuliani stressed, the Campaign 'doesn't plead fraud. . . … [T]his is not a fraud case.' … Instead, it objects that Pennsylvania's Secretary of State and some counties restricted poll watchers and let voters fix technical defects in their mail-in ballots. It offers nothing more," Bibas added.
Finding even this theory wanting, Bibas denounced the cascade of litigation the Trump campaign has deployed because of its disappointment in President-elect Joe Biden's commanding electoral victory.
"Voters, not lawyers, choose the President," the judge reminded the Trump campaign. "Ballots, not briefs, decide elections."
Joining in the 21-page opinion were two of George W. Bush's Third Circuit appointees: Judge Michael Chagares  and the Circuit's Chief Judge D. Brooks Smith.
None of the exclusively Republican jurists found any fault in the lower court ruling by U.S. District Judge Matthew Brann, who was appointed by former president Barack Obama but nonetheless spent roughly a decade in GOP politics in the Keystone State. The Trump campaign belittled Judge Brann's ruling as the political product of the man who appointed him, but the all-GOP-appointee three-judge panel rebuked that sentiment.
"We commend the District Court for its fast, fair, patient handling of this demanding litigation," they affirmed.
Once again, Trump's lawyer Jenna Ellis did not fail to turn the political reality on its head.
"The activist judicial machinery in Pennsylvania continues to cover up the allegations of massive fraud," she tweeted, lying about the composition of the judicial panel and concealing the fact that no fraud had been alleged.
For the panel, the matter at hand transcends politics. It's simple matter of math and democracy.
"First, for the reasons already given, the Campaign is unlikely to succeed on the merits," the ruling states. "Second, it shows no irreparable harm, offering specific challenges to many fewer ballots than the roughly 81,000-vote margin of victory. Third, the Campaign is responsible for its delay and repetitive litigation. Finally, the public interest strongly favors finality, counting every lawful voter's vote, and not disenfranchising millions of Pennsylvania voters who voted by mail. Plus, discarding those votes could disrupt every other election on the ballot."
Having already revised their frequently shifted claims before, the Trump campaign had hoped the appellate court would grant them another opportunity to file an additional complaint. The three-judge panel denied that.
"Seeking to turn those state-law claims into federal ones, the campaign claims discrimination. But its alchemy cannot transmute lead into gold," Bibas wrote. "The campaign never alleges that any ballot was fraudulent or cast by an illegal voter. It never alleges that any defendant treated the Trump campaign or its votes worse than it treated the Biden campaign or its votes. Calling something discrimination does not make it so. The second amended complaint still suffers from these core defects, so granting leave to amend would have been futile."
The Trump campaign tried to cobble together equal-protection claims that Judge Brann likened to "Frankenstein's monster"—namely, that Trump supporters Lawrence Roberts and David John Henry were harmed by people in some of Pennsylvania's blue counties benefiting from measures to protect ballot-access. But Roberts and Henry did not ask for the right to make their votes count. Instead, they asked for the court to invalidate millions of other ballots—but only for the presidential election, not the other races on the same ballots.
"Rather than requesting that their votes be counted, they seek to discredit scores of other votes, but only for one race," Brann observed on Nov. 21. "This is simply not how the Constitution works."
Pennsylvania's attorney general Josh Shapiro pointed out the wide chasm between what the Trump campaign has alleged in court and what they claim in venues where their law licenses are not on the line.
"The sitting president & his enablers can lie without penalty in tweets, 'hearings,' press events. Where they can't get away with it is in court," Shapiro wrote. "That's why they keep losing—there's no evidence to back up their claims."
As noted by the Third Circuit, Giuliani expressly disavowed fraud claims before Judge Brann.
"Granting relief would harm millions of Pennsylvania voters too," the opinion notes. "The campaign would have us set aside 1.5 million ballots without even alleging fraud. As the deadline to certify votes has already passed, granting relief would disenfranchise those voters or sidestep the expressed will of the people. Tossing out those ballots could disrupt every down-ballot race as well. There is no allegation of fraud (let alone proof) to justify harming those millions of voters as well as other candidates."
After disavowing fraud allegations in the Middle District of Pennsylvania, Giuliani walked into a Wyndham Inn conference room in Gettysburg, at an unsworn pseudo-hearing where he peddled baseless theories of voter fraud that he refused to advance in court. Several other Trump campaign lawyers have denied alleging fraud in courts around the country, when pressed by judges.
Read the ruling here:
(Photo by Drew Angerer/Getty Images)
Have a tip we should know? [email protected]
Adam Klasfeld - Managing Editor