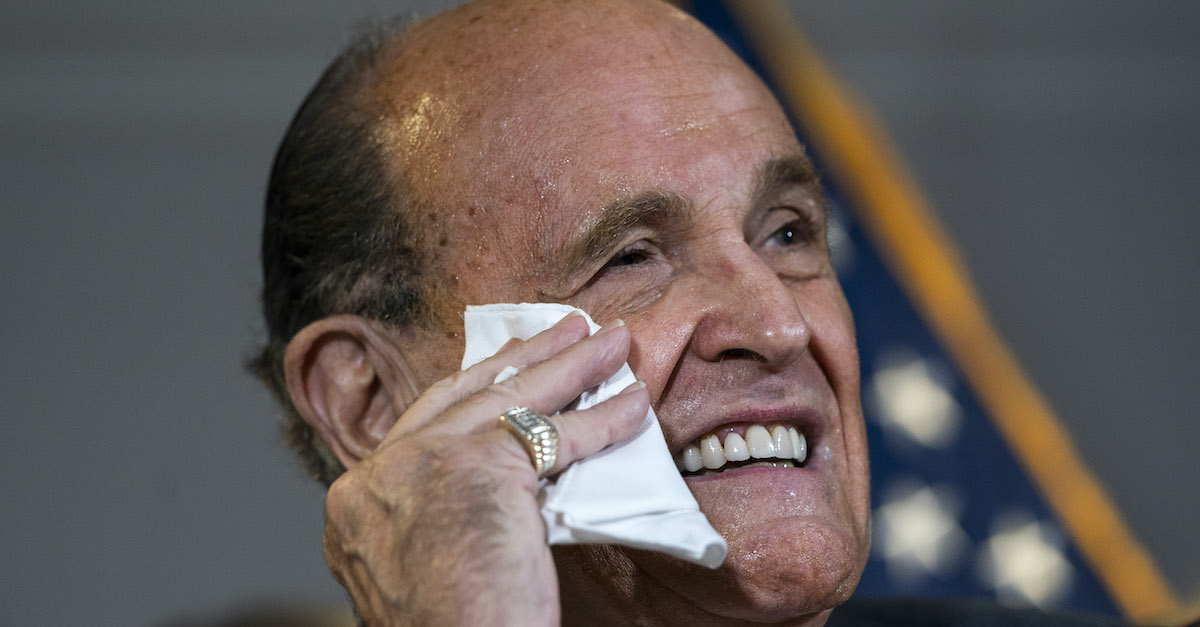 Dominion Voting Systems has sent a slew of retraction and/or record preservation demand letters as it threatens defamation litigation against numerous parties which Dominion's lawyers say falsely accused the company of orchestrating a conspiracy to steal the 2020 election from Donald Trump and hand it to Joe Biden.
The 21 letters from Clare Locke LLP, which Law&Crime has obtained the day after reporting at length on Dominion employee Dr. Eric Coomer's distinct but related lawsuit, were addressed this week to both individuals and media entities. The cease and desist letters warn of imminent litigation.
These letters are in addition to the one Dominion sent to Sidney Powell one week ago.
The individuals include but are not limited to: Fox Business' Lou Dobbs, attorney Lin Wood, Fox News' Sean Hannity, radio host Rush Limbaugh, code-named "Spyder" operative Josh Merritt, Colorado conservative activist Joseph Oltmann, "Exhibit Q" witness Russell Ramsland, Rudy Giuliani, Giuliani witness Mellissa Carone, Newsmax's Greg Kelly, and Fox's Maria Bartiromo. The entities include: Fox News, One America News, Newsmax, The Epoch Times, and the Executive Office of the President.
Document preservation notices to Giuliani, Dobbs, Kelly, Bartiromo, Limbaugh, Hannity, Executive Office of the President
Before warning that litigation is "imminent," attorney Thomas Clare described Giuliani as a disinformation "architect."
"Because you have been, and continue to be, an architect and driver of the ongoing misinformation campaign against Dominion, we write to you now to (1) demand that you cease and desist making defamatory claims against Dominion and (2) ensure that there is no confusion about your obligation to preserve and retain all documents relating to Dominion and your smear campaign against the company," the letter to Giuliani states.
Dobbs, who ran a fact-check of his false claims, is told in a letter: "We trust you are aware of the letters we sent last week to Sidney Powell and various media entities demanding retraction of their myriad false and conspiratorial claims about Dominion."
Dominion demanded a retraction from Kelly, a Newsmax host who instead ran a "clarification," for what the company described as "myriad false and conspiratorial claims."
Dominion notes in their letter to Fox's Bartiromo, the subject of multiple profiles chronicling her trajectory from Wall Street guru and Joey Ramone muse to pro-Trump partisan, that she has "featured, and continue[s] to feature," post-election conspiracy theorists on her show.
Dominion told Hannity that "you yourself have echoed" the smears against the company.
As for Limbaugh, Dominion told the Trump Medal of Freedom recipient to preserve his communications with the White House that bestowed his honor.
Dominion told White House counsel Pat Cipollone to preserve communications between any staffer and Powell, Wood, Giuliani, Jenna Ellis, or any of their associated attorneys and paralegals.
Preservation notices to Kraken team, witnesses Russell Ramsland and Josh Merritt
Just as the Dominion team demanded that the White House preserve their communications with the so-called "Kraken" team, the company told Powell's co-counsel not to delete any communications with "any member, volunteer, staff, or employee of the Trump campaign."
The company demanded the same of Wood.
To Ramsland, who uproariously confused Michigan and Minnesota in a widely mocked affidavit where he purported to be Wood's expert witness, Dominion was scathing: "You have positioned yourself as a leader in the ongoing attacks against Dominion by recklessly promoting long-debunked conspiracy theories that Dominion is somehow responsible for widespread voter fraud."
Dominion was equally cutting to Merritt, exposed by the Washington Post as the secret witness code-named "Spyder."
"You have worked closely with Ms. Powell and positioned yourself as 'Spyder,' a self-described 'U.S. military intelligence expert'—despite having no such expertise—and as a prominent leader of the ongoing misinformation campaign," the letter states.
Retractions demands to OAN and Fox News, as well as document preservation letters
Dominion has long reported death threats against their staffers from the vilification of the company, revealed in gruesome specificity  in the letter to OAN.
"To add insult to injury, OAN's smear campaign against Dominion has presented a real and present safety risk to Dominion employees throughout the country," the letter notes. "Recent news reports describe the harrowing account of one such employee who is currently in hiding because of the '$1,000,000 bounty' that has been placed on his head."
The threats get more detailed and grisly on the letter's second page.
Dominion shared some of the death threats shortly after a Fox broadcast.
"RUN," a text message said, according to the letter to the network. "I don't need to do that we are already watching you. Come clean and you will live."
"What is the penalty for TREASON?"
Separately from the retraction demand, OAN was told to preserve all records.
Separately as well, Fox was told to preserve all records.
Letters to Newsmax and The Epoch Times
Dominion told Newsmax CEO Christopher Ruddy to preserve all relevant records, including with the Trump campaign.
In a separate letter, Dominion told Ruddy the network's practice of running a "clarification" instead of a retraction was "deficient."
"Instead of retracting the false statements about Dominion—as detailed in our last letter—Newsmax instead decided to double down on its libel while simultaneously claiming to 'clarify' its news coverage," the letter states.
The Epoch Times, which gained a massive pro-Trump following through Facebook, allegedly planned a story questioning whether Canada should cut ties with Dominion "in light of the controversy in the United States."
Dominion told the hard-right broadsheet that the only "controversy" was manufactured by outlets like them.
Dominion separately told Epoch Times to preserve all communications, including with the Trump campaign.
Letter to Joseph Oltmann (read more here)
Colorado podcaster, who was already sued by one of the company's employees in Denver County, claimed to have infiltrated Antifa, but Dominion says that Oltmann's "outlandish" tales are easily debunked.
"Facts in the public record demonstrate the implausibility of your claims, but you have chosen to recklessly disregard the truth despite knowing all along that there is no evidence to support your story," their letter states.
Letter to Mellissa Carone
Parodied by Saturday Night Live, Carone is skewered at the start of Dominion's no-holds-barred letter.
"You gained international infamy earlier this month as Rudy Giuliani's so-called 'star witness' who could supposedly corroborate outlandish accusations that Dominion has somehow rigged or otherwise improperly influenced the outcome of the November 2020 U.S. presidential election," it begins, after an introduction.
Adam Klasfeld contributed to this report.
[Image via Drew Angerer/Getty Images]
Have a tip we should know? [email protected]