Two Obama Family Vacations Cost Taxpayers Millions: Report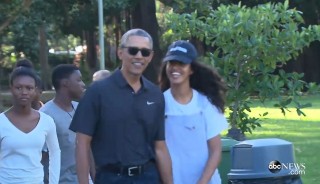 According to new records obtained by conservative group Judicial Watch, secret service accommodations and travel expenses for two Obama family vacations cost taxpayers more than $5 million dollars.  The organization obtained the records through a Freedom of Information Act request from the U.S. Department of Homeland Security (DHS). The records revealed that secret service accommodations alone for the 2014 Martha's Vineyard and Honolulu vacations cost taxpayers $1,243.057.  The information is all a result of a lawsuit filed by the right leaning group after they say DHS ignored their FOIA requests.
Here are some of the expenses, according to the group:
$39,575.95 at Paradise Luxury Rentals
$34,827.57 at the Kahala
$298,218.15 at Cabana Girl LLC
Judicial Watch is a frequent critic of the costly Obama's family trips. The group contends that the total bill for Obama's travel costs exceed $74 million dollars so far.
"Now that we've sued, the Secret Service has stopped ignoring our requests for details on more of the costs of Barack Obama's luxury vacations," said Judicial Watch President Tom Fitton in a press release, "Taxpayers, the U.S. Air Force, and the Secret Service are being abused by Barack Obama, who too often treats Air Force One and his security detail like some sort of kingly entourage."
In January, the Honolulu Police Department reported it's highest bill yet of $341,000 in overtime costs to provide security for the President and his family, according to local newspaper accounts.  So how does President Obama stack up? At last count, he's actually taken fewer days of than some.  President George W. Bush took 405 days, Bill Clinton took 174, and Ronald Reagan took 390 days.  (according to CBS News)
[Screengrab via ABC News]