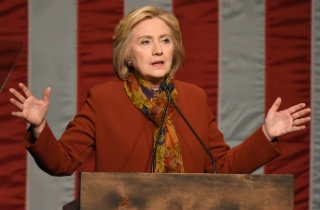 The now-searchable Wikileaks archive of emails hacked from the account John Podesta, the chairman of Hillary Clinton's presidential campaign, has been updated twice in the last few days, with the latest batch added Monday morning. LawNewz is combing through the leaks to find anything of interest, and, of course, some of the most eye-catching emails have to do with Clinton's private email server and how to deal with the issue once the story broke. One such email thread comes just 13 days after the New York Times broke the private server story, and it has two overriding themes:
A focus on what they saw as the hypocrisy of Congressmen pushing the story when their own emails are exempt from the Freedom of Information Act (FOIA).
Planning on the media message being that the House Republicans were conducting what the Clinton team felt would end up being a taxpayer-funded opposition research mission for the upcoming presidential race.
On the first point, Jesse Ferguson, Clinton's Senior Spokesman, had what was probably the most colorful idea, which Chief Strategist Joel Benenson said he "love[d]": Getting a congressman to introduce a bill to end the aforementioned exemption to FOIA…with the sole purpose of bringing attention to the perceived hypocrisy of the Republicans congressmen, because he knew it wouldn't become law. Ferguson wrote:
The other question is whether there is a member who would introduce a bill to end the FOIA exemption for Members of Congress? They should be just as transparent as they're demanding HRC be. It would put the focus on the Members keeping their emails private and would never actually pass.
In reply to Ferguson's email, there's a discussion as to who would be most receptive to introducing such a bill. Benenson added that it doesn't matter if the legislator in question is a member of the House or Senate, while Ferguson expressed concern that he couldn't find a a record of a previous bill being introduced. In addition, Podesta and Benenson make it clear that they think their media strategy is to present the investigation as nothing more than a way to spend taxpayer money on a political smear.
That last one seemingly conflicts with what Ferguson wrote about their own plan, though. If they knew that a theoretical bill to remove congressmen's exemption  would never pass, then it's entirely a public relations exercise, which could also cost the taxpayer's money.
LawNewz has reached out to the Clinton campaign as well as the strategists in the chain (via the addresses used in the 2015 emails) for comment. We will update this article if we get any responses.
[Photo: Shutterstock]
Have a tip we should know? [email protected]