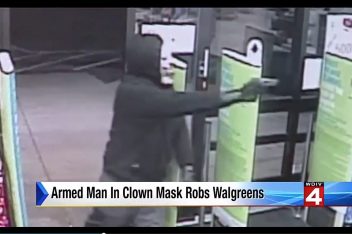 Over the past few months, cities across the country have seen a growing rash of reported creepy clown sightings.  Many of the reported incidents are likely hoaxes or harmless pranks, but there was nothing funny about the clown sighting inside a Walgreens near Detroit earlier this week.
Around 9:30 p.m. on Tuesday night a person wearing a clown mask entered a Walgreens and pulled out gun, according to a report by ClickonDetroit.com.
WATCH:
Witnesses say the alleged robber in the clown mask did not waste any time, immediately pointed a pistol at employees working the register and demanding they turnover the cash.
"I was just robbed at Walgreens, at West and Telegraph by a man with a clown mask," a frantic store clerk said during a 911 call just moments after the man left the store.
Police say the he masked man also pointed his weapon at two customers in the parking lot, warning them to stay back as he fled the scene in a blue Impala with about $400 in stolen cash.
According to the report, the Walgreens incident was just one of three clown related crime reports in that area.  A young boy reported he was attacked by a man dressed as a clown outfit and two women reported being threatened by individuals dressed as clowns that were carrying baseball bats.
"It is just ridiculous how people are dressing up doing stupid stuff.  They need to quit it and this is ridiculous," one woman told the news station.
[image via screengrab]
Have a tip we should know? [email protected]