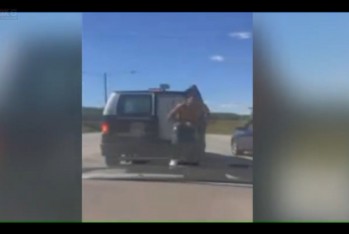 A woman in Milwaukee got the surprise of her life recently while riding with her boyfriend and sister in a vehicle behind a Milwaukee Police Department prisoner transport van.  As they pulled up to a stoplight at an intersection, the backdoor on the van popped open and man who appears to be in handcuffs jumped out and took off running.
The woman did not want to be identified, but she was interviewed over the weekend by local Milwaukee affiliate Fox 6 News.  She also provided the news station with amazing cellphone video of the purported incident.
WATCH:
The woman told the reporter she first noticed something strange about the van a few blocks earlier and that is why her boyfriend had his cellphone camera ready as they approached the stoplight.
"I seen like, the door bounce," the woman told the reporter.
As they approached the stoplight the woman says she noticed what appeared to be an arm holding the van door.  When the vehicles stopped, the video shows a handcuffed man suddenly appear, slipping through the inner-cage door and then jumping out of the back of the van.
"The look of his face when he jumped out was kind of a shock — like what do I do now?" the woman said.
He did not hesitate long and the video shows him quickly running away from the area on foot.
The woman said another vehicle had to pull up next to the police van to alert the driver about what happened.  She said by the time the van hit the emergency lights and turned around, the prisoner was long gone.
The news station says they reached out to the Milwaukee Police Department several times on Sunday, but the department did not respond to requests for comment.
Have a tip we should know? [email protected]