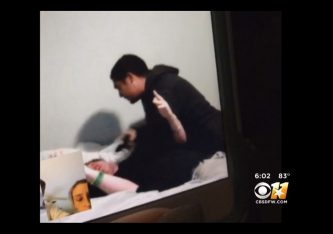 A Dallas teenager and her father say they watched helplessly as a FaceTime chat with her boyfriend was interrupted when three armed men forced their way into her boyfriend's apartment and held a gun to his head.
17-year-old Baylee Lucciani told CBSDFW.com about the terrifying incident in a recent interview, saying she was chatting on FaceTime with her boyfriend, 19-year-old Yale Gerstein, when they broke into his apartment and began pistol whipping him.
WATCH:
"I was like, oh my gosh, I'm watching this all on my phone, so I'm just like screenshot, screenshot, screenshot," Lucciani said.
She called to her father to come see what was happening and he called 911 almost immediately after seeing the weapons.  However, he still expressed feeling somewhat helpless that he could not do more to help.
"We were watching him get beat up, and we couldn't do anything about it. We were just watching it," her father, Chris Lucciani, told the reporter.
The robbers apparently only noticed the camera was still when Baylee finally yelled out that she was calling the police.
"It was pretty weird. They looked right at us," the father said.
They say the computer screen then quickly went black, but not before they heard one of the suspects ask, "[S]hould we just kill him?"
Both say they assumed Gerstein might have been dead until officers from the Austin Police Department called to inform them that he was safe.
The Lucciani's turned over all of the videos and screenshots of the incident to police who told the news station an investigation is ongoing.
[image via screengrab]
Have a tip we should know? [email protected]