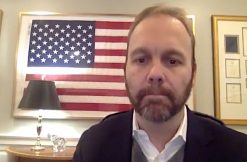 Screen capture from video message to Dec 2017 fundraiser.
Have a tip we should know? [email protected]
Aaron Keller - On Air Host
Aaron Keller is an attorney licensed in two states. He holds a juris doctor degree from the University of New Hampshire School of Law and a broadcast journalism degree from Syracuse University. During law school, he completed legal residencies in the Office of the New Hampshire Attorney General and in a local prosecutor's office. He was employed as a summer associate in the New Hampshire Department of Safety, which manages the state police, and further served as a summer law clerk for a New York trial judge. Before law school, Keller worked for television stations in New York and in the Midwest, mostly as an evening news anchor and investigative reporter. His original reporting on the Wisconsin murder of Teresa Halbach was years later featured in the Netflix film "Making A Murderer."