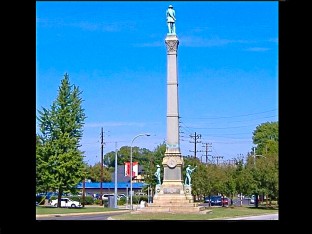 A monument erected in 1895 to honor Kentuckians that fought and died for the Confederacy will be removed from its current location on city property in Louisville's Freedom Park, near the University of Lousiville Campus.
The decision to takedown the 121-year-old monument puts an end to a nearly 20 year long battle waged by some, such as Louisville Mayor Greg Fischer, that felt Freedom Park was no longer the appropriate venue for such a display, according to WHAS11 News.
"There were always be more work to do on the path of justice,"  Mayor Fischer said. "Today we made a down payment."
"The stain of slavery and racism that this monument represents for many, many people has no place in a compassionate forward looking city," Fischer added.
University of Louisville President Dr. James Ramsey was also a lead proponent in removing the monument and he was happy to see it on its way out.
"The confederacy represented that all men were not created equal, and that it was ok for some people to own and trade other people," Dr. Ramsey said.
Dr. Ricky Jones said the removal of the monument is the right decision.
"We're moving beyond a period of hatred, inhumanity, and we're continuing to recognizing that here at the university," said Dr. Jones.  He then added, "The confederacy was a group of traitors.  They lost the war, so why would you memorialize them?"
However, Sophomore grad student Benjamin Giles believes the monument should remain where it has stood for over a century, not as a memorial to slavery or racism, rather as a reminder of where we have been and how far we have come.
"Let this monument serve to anyone who seeks to divide the United States racially that we have been there and done that, and we disapprove of it," Giles said. "Let it stand as a monument to the 600,000 dead Americans who fought to end slavery."
Mayor Fischer has not set a timetable for when or where the monument will be moved to be placed on full display.  For now, the news report says it will be cleaned and taken to a storage facility awaiting its final destination.
[image via Wikipedia, public domain]
Have a tip we should know? [email protected]