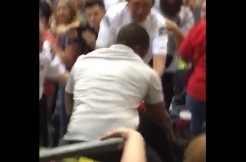 Charges were brought against the Trump supporter who was taped attacking a protester Saturday at a Tuscon, Arizona rally. 32-year-old Tony Pettway was arrested at the event, and faces a charge of assault with injury. Though he's been released from custody, he must attend a court hearing.
Amateur footage caught Pettway attacking protester Bryan Sanders:
Went to the Trump rally just to see how crazy it would be……..this is insane pic.twitter.com/QFwSwmNoI0

— Alex Satterly (@alex_satterly) March 19, 2016
"I was being escorted out of the building," Sanders told Tucson News Now. "I had that in my right hand a peace sign up. A guy grabbed the sign out of my right hand and sucker punched me. Then he got on top of me, and hit me several more times."
Sgt. Kim Bay, of the Tucson Police Department, told Tucson News Now that Linda Rothman, 67, was also arrested at the rally. She faces a charge of assault with no injury.
[h/t Associated Press]
–
Follow Alberto Luperon on Twitter (@Alberto Luperon)
Have a tip we should know? [email protected]