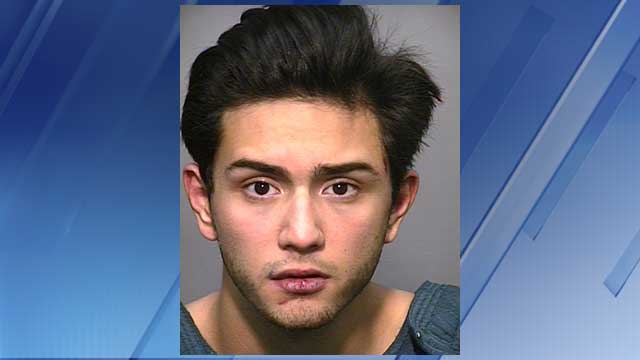 Testimony in the Arizona v Steven Jones trial began.  This case involves an 18 year old Northern Arizona University student, Steven Jones, who shot four other students on the night of October 9, 2015. Steven Jones is claiming self defense. He claims that he was being threatened by the victims, and that he shot them, killing one, to save himself and his friends.  How will he prove that claim?
In most criminal cases, the criminal defendant does not testify.  Aaron Hernandez didn't testify in either of his trials. Casey Anthony didn't testify. OJ didn't testify. However, when the defense is a claim of self defense, the defendant often has no choice but to testify so that he can explain why he was in fear for his life or imminent bodily harm, and why that fear was reasonable.  This is often the only way for the jury to hear that testimony .
But Jones gave a number of statements, and if the defense can find a way to admit those statements through other witness Jones may not have to testify.  In those statement, Jones first question (after talking about the fact that he might be sick), was to ask "Do you know if they're ok?"  He went on to ask if the officers knew whether "they" were ok, and asked how many people got hurt.
Jones spoke with the police for hours and one point he did ask to call his father. At another he asked to call a lawyer.  He mentioned that he had a tooth that had been knocked loose. He told an officer that he was a freshman, four weeks into his first semester at school.  He was homeschooled for high school, and he was pledging an academic fraternity. The brothers in that fraternity had told him never to leave his fellow pledges, so when he felt they were being attacked he went to his car to pick them up and get them to safety. When his car wouldn't start, he got his gun instead.  More than once he bemoans the fact that all he and his friends were doing when the altercation started was "standing there……talking about the stars."
Much of what is contained in this over 200 page document may help Jones' defense, and allow the jury to understand his state of mind without exposing him to cross examination.  It certainly doesn't seem to support the idea that he was an "assassin" in the night, the way the prosecutor described in his opening.  It is worth reading the statement if only to see this story through another lens. It may change your mind. It won't change the fact that this was a tragedy for everyone involved, a tragedy that began when the killer was "just standing there, looking at the stars."
Steven Jones Statement to Police by LawNewz on Scribd
Have a tip we should know? [email protected]
Heather Hansen - On Air Host