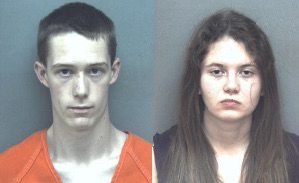 Two Virginia Tech students arrested over the weekend in connection with the death of 13-year-old Nicole Lovell both appeared in court on Monday morning in Montgomery County for formal arraignment.
David Eisenhauer was charged with first-degree murder and felony abduction by force and Natalie Keepers was charged with felony improper disposal of a body and misdemeanor accessory after the fact for their roles in the death of Nicole Lovell.
The charges against Eisenhauer carry a maximum penalty of up to life in prison, while Keepers faces a maximum of 5-years on the felony improper disposal charge and up to one-year in jail on the misdemeanor accessory after the fact charge.
They are both being held without bond and will appear in court again on March 28 for a preliminary hearing.
Authorities remain relatively tight-lipped about the investigation and have not revealed how Lovell was killed or released a possible motive for the killing.
However, Blacksburg police Lt. Mike Albert has said Eisenhauer and Lovell "were acquainted" before her disappearance last Wednesday from her family apartment and that Eisenhauer used that relationship to his advantage, to abduct and kill Lovell.   Additionally, according to a court document, Eisenhauer told an investigator, "I believe the truth can set me free."
An autopsy on Lovell is scheduled for Monday afternoon, but the report and results are not expected for at least 6 weeks, according to the prosecutor.
[h/t Roanoke Times; image via Blacksburg Police Dept]
Have a tip we should know? [email protected]