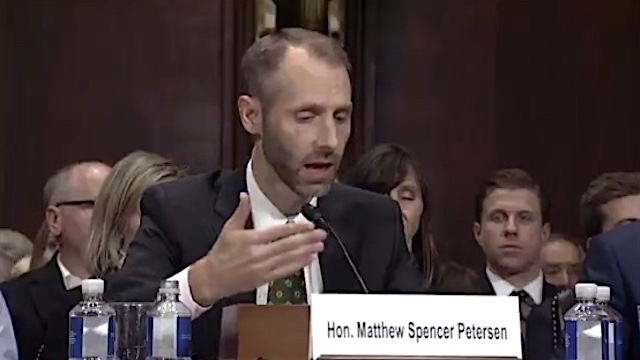 WASHINGTON (AP) — A White House official says the Trump judicial nominee whose qualifications were questioned by a Republican senator has withdrawn his nomination.
Matthew Peterson, who was nominated by Trump to the United States District Court for the District of Columbia, has been the subject of widespread ridicule since he was unable to define basic legal terms during his confirmation hearing Wednesday.
A White House official says Peterson has withdrawn his nomination and that Trump has accepted the withdrawal. The official spoke on condition of anonymity because the official was not authorized to discuss the development publicly.
Louisiana Sen. John Kennedy pressed Peterson, a former chairman of the Federal Election Commission who testified he had never tried a case, on his qualifications to the bench.
[Screengrab via pool video]
Have a tip we should know? [email protected]