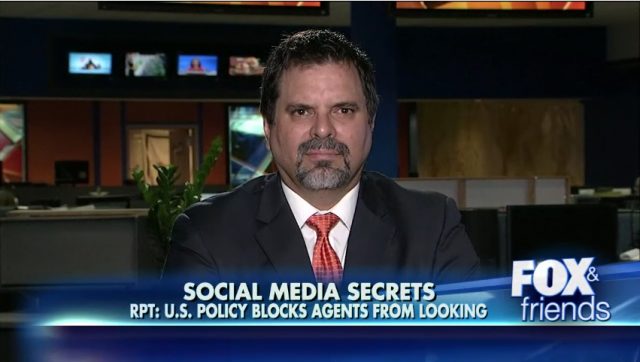 A senior Trump administration official with the Department of Homeland Security ("DHS") once claimed that the acceptance of LBGT individuals and rights causes societies and nations to suffer.
Frank Wuco's official title is Senior White House Advisor to the United States Department of Homeland Security. Prior to serving in that post for the Trump administration, Wuco hosted an eponymous talk radio show out of Tampa Bay, Florida.
Wuco's tenure as a right-wing talk show host contained standard issue criticism of Islam and Muslims, disparagement of gay rights and allied organizations, race-baiting commentary directed at Jamie Foxx, the Congressional Black Caucus and the NAACP, and the occasional penchant for birtherism.
While a guest on Charles Butler's similarly-themed talk show, The Reality Check, Wuco and Butler entered into a discussion slamming President Barack Obama's decision to allow transgender Americans to serve in the armed forces.
During the May 10, 2016 segment of The Reality Check, Butler said, "Paganism, hedonism, bestiality, Sodom and Gomorrah. This is not new. This is nothing new. This is history, this is the Bible. We are allowing this immoral bastard sitting in the White House to destroy this country and it's unconscionable that people won't rise up and say something."
To which Wuco replied:
Well, Charles, the patterns are clear. Societies and nations for millennia have suffered greatly if this — not from just from a biblical, spiritual standpoint, but just from a human engineering standpoint in their ability to sustain a order and a society with no cultural center and no moral center. So this is a pattern that will repeat itself.
This wasn't the first time Wuco and Butler bro'd out over disparaging LGBT people on the air. On the February 1, 2016 edition of The Reality Check, Wuco said:
Yeah, it's — what a great thing this can be if transgender can just be, rename it just whimsical transgender and one day on a whimsy, you're at the Y, or you're at the gym, and you just, "I feel like, I feel like being a woman today, I'm going to go into the women's shower."
Butler then replied, "That's how I feel, baby. That's how I feel, baby."
Wuco's comments were recently unearthed by Media Matters researcher Eric Hananoki. A prior report compiled by CNN noted that Wuco has made comments mocking the LGBT community, one claimed the LGBT lobby hijacked the word "gay" and has been critical of gay-straight alliance groups in high schools.
Law&Crime reached out to the Department of Homeland Security for comment on this story, but no response was forthcoming at the time of publication.
[image via screengrab/Fox News]
Follow Colin Kalmbacher on Twitter: @colinkalmbacher
Have a tip we should know? [email protected]