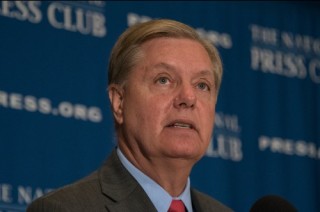 Republican Senator Lindsey Graham went on record Thursday, saying that while he supports his party's decision to wait until next year for the next President to select a Supreme Court nominee, the move could have bad repercussions.
Imaging what might happen if Hillary Clinton wins the Presidency in November, Graham said, "she's going to pick somebody probably more liberal than President Obama's going to send over in a few days," The Hill reports. He then defended a President's right to choose a justice, saying, "I'm going to vote for that person if I think they're qualified."
Graham voted for Justices Sotomayor and Kagan, "not because I would have picked them, but because I thought the president of the United States deserves the right to pick judges of their philosophy, and that goes with winning the White House," he said.
"We are setting a precedent here today," Graham declared, saying that the new rule would be to never appoint Supreme Court nominees in an election year. "Over time the judiciary will be more ideologically driven," he warned, believing that politicizing the Supreme Court would lead to a polarized judicial system with more extreme judges, according to USA Today.
Despite this, Graham insisted that his party's plan is still the right thing to do.
[h/t USA Today, image via Albert H. Teich/Shutterstock]
Have a tip we should know? [email protected]