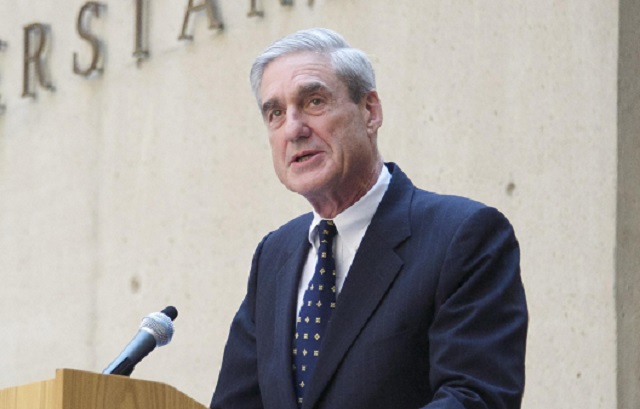 A recent hire for Special Counsel Robert Mueller's Russia probe could shed some light on where the investigation is going. Ryan K. Dickey reportedly joined the team in November, according to a statement from a Mueller spokesperson on Thursday.
Dickey has served in the Justice Department's Computer Crime and Intellectual Property Section, and was on the team that prosecuted and convicted Romanian hacker Marcel Lehel Lazar, aka Guccifer.
With Dickey now part of Mueller's office, that could indicate that the probe is looking at cyber-related activities.  University of Georgia law professor Page Pate said this may be a sign that Mueller is looking at possible conspiracy charges related to Russian hacking, should there be evidence that Donald Trump's campaign had knowledge of Russian cyber-attacks when they happened.
If Mueller believes the Trump Campaign had knowledge of Russia's hacking efforts, he may pursue conspiracy charges relating to the hacking. And this would be how it starts… Mueller Adds Veteran DOJ Cybercrime Prosecutor To Team https://t.co/zAnM9HYtoV

— Page Pate (@pagepate) January 12, 2018
If Mueller's team can detect evidence that connects Russian hacks to Trump's campaign, that could be a breakthrough for the investigation.
If the Trump campaign was involved in Russian hacking, there could be federal conspiracy charges for being a party to Russia's illegal activity. There's also the Computer Fraud and Abuse Act, which penalizes the theft of property using computers in order to carry out a "scheme to defraud." If Dickey or anyone else in Mueller's office uncovers evidence that the Trump campaign helped Russia carry out such acts, they could charge campaign members with violations.
Alternatively, the Mueller's office could also be looking into Russian-backed social media ads that contained charged political messages. Jared Kushner was known to have run a lot of the Trump campaign's digital efforts. As attorney Bradley Moss said on the Law&Crime Network on Friday, if there is evidence that Kushner worked with Russia in using bots on social media to push pro-Trump messages, he could be in trouble, if he hid or lied about this when filling out his security clearance application.
Editor's note: This article has been updated with discussion of which charges and legal exposures Trump campaign members could have.
Have a tip we should know? [email protected]