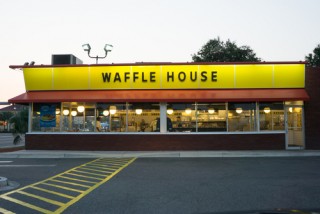 Mye Brindle, a housekeeper for Joe Rogers, former CEO of the Waffle House restaurant chain, was indicted on Friday, for allegedly trying to extort millions of dollars from her boss. Her lawyers, John Butters and David Cohen, were charged as well. According to the Associated Press, all three were indicted for secretly videotaping Brindle and Rogers having sex in Rogers' home, and then trying to blackmail him with the recording.
Brindle and her attorneys claim that Rogers had been sexually harassing and abusing her for years. The attorneys' spokesman, Brian Robinson, said, "These indictments re-victimize the woman who dared to tell the truth about her powerful abuser and smear the attorneys who represented her."
In 2012, Brindle sued Rogers for sexual harassment, claiming that for almost a decade, he forced her to engage in sexual acts against her will to keep her job. Rogers admitted to having a sexual relationship with Brindle, but said it was consensual.
Court records show that Brindle recorded a video and 15 audio recordings of her encounters with Rogers, all without his knowledge. Brindle also reportedly kept a towel with Rogers' DNA on it. Records indicated that the video, made with a spy camera Brindle received from a private investigator, did not show that Brindle did anything against her will.
Secretly recording someone in their bedroom is considered eavesdropping, which is a felony in Georgia. Brindle, Butters, and Cohen are all charged with conspiracy to commit extortion, conspiracy to commit unlawful eavesdropping, and eavesdropping, each facing a sentence of up to five years of incarceration.
Have a tip we should know? [email protected]