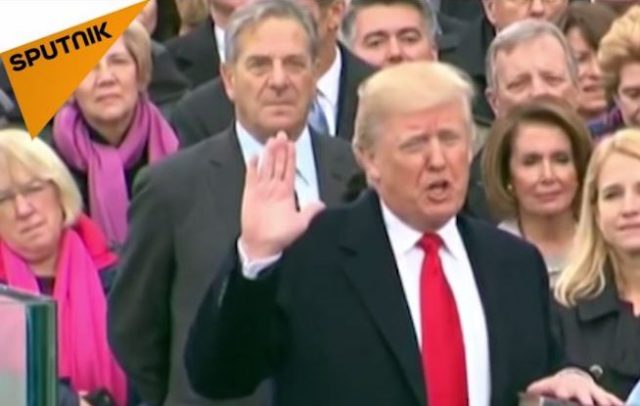 The FBI is in the midst of an investigation of the Russian government-funded news agency Sputnik, and whether it's illegally operating as a Kremlin propaganda organization, according to a report by Yahoo News. Thousands of internal records reportedly may show that Sputnik may have been involved with Russian efforts to influence November's U.S. presidential election.
Former Sputnik White House correspondent Andrew Feinberg turned over emails and other documents to the FBI, stored on a thumb drive. He had reportedly downloaded the files to a laptop before the organization fired him in May. Feinberg discussed the evidence during a questioning session before a Justice Department attorney and an FBI agent earlier this month.
"They wanted to know where did my orders come from and if I ever got any direction from Moscow," Feinberg said to Yahoo News about his conversation with the feds. "They were interested in examples of how I was steered towards covering certain issues." He said that they asked him about "internal structure, editorial processes and funding" of Sputnik.
If the news organization is truly in the business of propaganda, and not legitimate news, they could be in violation of the Foreign Agents Registration Act (FARA), which requires foreign agents engaged in political activity to make certain public disclosures. Legitimate news organizations are exempt from FARA requirements.
Feinberg has cited a number of instances in which he received orders from Sputnik that made him uncomfortable, and claims he was fired for refusing to go along with them. The last of those, he said, was when he was told to acquire emails of then-CIA Director John Brennan from a hacker who had acquired them.
"I refused because I believed this was a solicitation to espionage," Feinberg has said. He said he was fired after his refusal, although Sputnik's U.S. editor in chief, Mindia Gavasheli, told Yahoo that he fired Feinberg for lying in order to take time off.
Feinberg has also claimed he was told to ask a question during a televised White House press briefing about Democratic National Committee emails being leaked by murdered staffer Seth Rich and not hacked by Russian operatives. The Seth Rich story, once reported—and subsequently pulled—by Fox News, has been discredited by the story's main source. Feinberg said he refused to ask about this, and that this too led to his termination.
Gavasheli was adamant that the allegations that Sputnik is a propaganda tool are false. He told Yahoo, "Any assertion that we are not a news organization is simply false." As for the FBI investigation, he said, "This is the first time I'm hearing about it, and I don't think anyone at Sputnik was contacted, so thank you for letting us know."
Sputnik is owned by the Russian government organization Rossiya Segodnya, which is led by Dmitri Kiselyov. Kiselyov is reportedly known commonly as Vladimir Putin's "personal propagandist," and has in the past faced sanctions by the European Union.
[Image via Sputnik screengrab]
Have a tip we should know? [email protected]