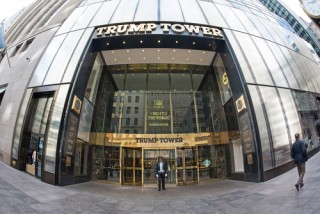 Presumptive Republican Presidential nominee Donald Trump has made use of his property in conducting campaign events, and New York City inspectors are looking into whether he's breaking an agreement he has with the city in the process, the Associate Press reported.
Officials were checking to see if the event was open to the public after Tuesday's press conference in the atrium at Trump Tower, where he discussed his charitable donations to veterans. Trump made an agreement with the city in the 1970s, when he was looking to expand the tower, that he had to keep the atrium open to the public on a daily basis from 8am to 10pm.
Michael Cohen, an attorney for the Trump Organization, said, "The property was never closed and I dispute any reports from anybody stating otherwise." But an AP reporter claimed to only see building staff and credentialed media being allowed in after being checked by the Secret Service.
City officials said to the Associated Press that the atrium can only be used for private events four times a year with the city's permission. The planning and buildings departments told them that there was no record of the Trump Organization requesting permission for private events in the space in the past two years.
Have a tip we should know? [email protected]