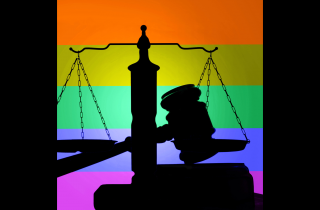 Can school employees out LGBT students to unaware parents? Critics say one bill invades the privacy of sexual minorities, especially transgender kids.
Texas state senator Konni Burton (R-Forth Worth) introduced SB 242 in early November to stop what she calls government intrusion into parental authority and love. The bill would entitle parents access to their kids' student records including attendance records, counseling records, and "other records relating to the child's general physical, psychological, or emotional well-being."
School employees would get in trouble by withholding information, even if a kid asked them to.
In an interview with The Houston Chronicle, her Chief of Staff Elliott Griffin explained that yes, this bill was written in response to the Fort Worth school district's new guidelines on transgender students. He said it just "streamlines" existing law which already gives parents the right to have any information they request about their kids.
In May, Burton criticized the rules because these were made without parental input, she said. School authorities would have been required to recognize a kids' preferred gender identity, which meant acknowledging their preferred pronouns, and use of relevant bathrooms and locker rooms. The guidelines would have helped keep a kid's general identity secret from even their parents.
"Our schools are a place of learning; they are not replacements for the support and love of the family," she wrote in a May editorial criticizing the guidelines. "I've heard it argued already that leaving parents in the dark is in the interest of safety, yet research shows transgender people are at an exponentially higher risk of suicide than the general population."
Critics say the bill could out not just transgender kids, but any other kind of sexual minority. Equality Texas, a nonprofit that supports LGBT rights in education, oppose the bill in no uncertain terms, saying it puts kids at risk to abusive parents.
"If your kid is gay, and can tell his teacher, but hasn't told you, then you are the problem," Chairman Steven M. Rudner wrote in a statement. "If a kid can tell a teacher but not their parent, it is a pretty good indication that your child is scared of you and the consequences of telling you, and you are who the kid needs to be protected from."
A 2014 study by The Williams Institute at UCLA School of Law links suicide attempts by transgender people to being harassed or ostracized. Sources of discrimination don't just include strangers, but family members as well. 57 percent of respondents who attempted suicide said "Family chose not to speak/spend time with them" because they were transgender. Loving support makes a difference, however. It all depends on whether they get affection or rejection.
A lower than average prevalence of lifetime suicide attempts (33%) was found among respondents who said their family relationships had remained strong after coming out (see Table 17). In contrast, the prevalence of suicide attempts was elevated among respondents who reported experiencing rejection, disruption, or abuse by family members or close friends because of antitransgender bias. Again, lifetime suicide attempts were reported most frequently by those who were victims of violence by a family member, with 65 percent of such respondents indicating having attempted suicide.
In any case, the direct reason for Burton's bill is actually gone now: The Fort Worth guidelines were revised in July after receiving criticism, and parental input is now necessary for kids who want to use restrooms matching their gender identity.
[image via zimmytws/shutterstock]
Have a tip we should know? [email protected]