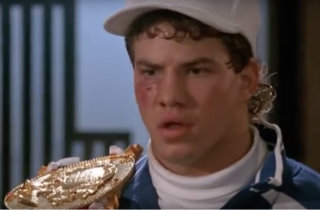 Various parts of new paperwork filed in federal court Friday by the Nevada State Athletic Commission (NSAC) include comments that don't exactly reflect well on them…especially in light of a LawNewz article published the day before.
On Thursday, LawNewz broke the story that documents from the same case revealed that Tommy Morrison, the late boxer best known for his 1989 role in "Rocky V" and HIV-induced retirement in 1996, was apparently first diagnosed in 1989— 7 years before anyone knew about it. With Nevada having first made a negative HIV test a requirement for a boxing license in 1988 and Morrison having fought in the state nine times in the interim, it's clear that there are problems in their licensing procedures, which are effectively the same today as they were 20 years ago.
On Friday, in the commission's latest filing in the lawsuit, the NSAC made some statements that don't exactly read well in light of our report. At one point in the new filing, the NSAC makes this statement:
To make the record clear, the NSAC does not send license applicants to a particular laboratory, and frankly does not care which accredited laboratory that the applicant uses as long as the applicant shows that he or she is not infected with the human immunodeficiency virus.
In the context of the lawsuit they're fighting, it's a perfectly reasonable thing to say. But in the context of a discussion of a fighter they know was HIV positive but tested negative for years, it reads as callous. As noted Thursday, the only hypothesis that those in the fight scene had for how someone like Morrison could test negative was the fighter finding a health professional who was 'friendly' and would submit HIV negative blood tests.
Later in the same filing, the NSAC writes that:
Morrison had fought numerous times in Nevada prior to 1996 and was aware of the requirement for a negative HIV test.
When reading court filings like this, you have to keep in mind that certain things are phrased certain ways for procedural reasons and to fit the specific argument being made. That said, the above doesn't sound great coming from a side that has made Morrison knowing in 1996 that he wasHIV positive for seven years a significant part of their defense.
There's one other interesting note in Friday's papers: The NSAC made it perfectly clear that "any medical record used in the decision process to grant or deny a license is public information." LawNewz has an outstanding public records request with the NSAC for Morrison's medicals. If Morrison's negative HIV tests for his previous Nevada licenses were saved, it appears that the commission is saying they would have to turn them over.
[Photo: Rocky Balboa YouTube Channel]
Have a tip we should know? [email protected]