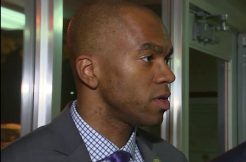 On Wednesday, The Cumberland County Board of Education voted 5-2 to uphold the 10-day unpaid suspension for high school teacher Lee Francis.
In September, the North Carolina man was teaching a history class about the 1989 Supreme Court ruling Texas v. Johnson. That's the case which established that flag-burning is protected under the First Amendment, so Francis stepped on Old Glory as a part of the civics lesson. Word got out about the incident after a student put up a picture on Facebook.
Francis has been a warehouse worker at the school district office since then, and he told WTVD that his contract has not been renewed. His teaching status remains in doubt since that decision lays in the hands of Superintendent Frank Till, the man who recommended the suspension in the first place.
But it's not like he's letting the suspension slide.
"I think there is a window of opportunity to appeal to Superior Court, and I certainly anticipate that we will be in Superior Court," his attorney Allen Rogers told WTVD.
[Screengrab via WTVD]
Have a tip we should know? [email protected]