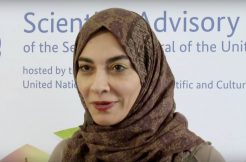 On Thursday, a U.S. District Court in Massachusetts ruled that Hayat Sindi's victory in a defamation suit won't be retried.
In July, the scholar won $3.5 million when a jury agreed that daughter-mother pair Samia El-Moslimany and Ann El-Moslimany tried to hurt her career. They were found to have committed libel by writing various claims on social media and in emails to Sindi's colleagues. Defamation includes: that she fraudulently obtained her Cambridge doctoral degree; overstated her role in Harvard lab research; had her dissertation ghost written; and lied about her age to get an award for young scholars. Apparently, this was all motivated by a belief that Sindi had an affair with Samia's husband.
Of course, the defendants had the right for fight for a retrial. Which they tried to. Aaaaand they aren't going to get it.
U.S. District Judge Indira Talwani didn't buy it when they said their actions weren't "extreme and outrageous."
From the ruling:
First, as both Plaintiff and Samia El-Moslimany testified, Samia El-Moslimany sent emails and text messages to Plaintiff wishing that she would be ruined professionally and personally, and expressing hope that Plaintiff would get cancer. Then, as Plaintiff, Defendants, and witnesses (Myer Berlow, Joi Ito) testified, Defendants sent correspondence to many of Plaintiff's business contacts over a period of years, parroting false allegations about her professional and academic accomplishments. Both Plaintiff and Defendants further testified that Defendants posted comments stating the same false allegations about Plaintiff on many articles and other media about Plaintiff. Additionally, as Plaintiff and Defendants testified, Samia El-Moslimany handed out flyers and pamphlets at several conferences at which Plaintiff was speaking. Finally, as Plaintiff and Samia El-Moslimany testified, Samia El-Moslimany traveled to Plaintiff's mother's residence.
The pair also disputed Sindi's claims that she suffered damage to her physical well-being: getting headaches, anxiety, etc. They brought forward medical evidence that seemed to show the scholar was already having medical issues before she interacted with them. The judge acknowledged their point, but she wouldn't budge:
"Nonetheless, based on Plaintiff's testimony as to her emotional distress and as to the severity and longevity of Defendants' actions, the jury had sufficient evidence to find that Plaintiff suffered damages, and the jury's finding was not against the weight of the evidence," she wrote.
The El-Moslimanys had a small victory, though. Talwani said evidence really didn't support such high damages for lost wages. Now, they only have to pay a total of $1,720,000.
Sindi, a biotechnology expert, is currently a visiting scholar at Harvard University, and was one of the first women to ever serve on the Consultative Assembly of Saudi Arabia.
We've reached out to her and the El-Moslimanys' lawyers for comment, and will update when we hear back.
You can read Thursday's ruling below:
Sindi v El-Moslimany by LawNewz on Scribd
[Screengrab of Sindi via UNESCO]
–
Follow Alberto Luperon on Twitter (@Alberto Luperon)
Have a tip we should know? [email protected]