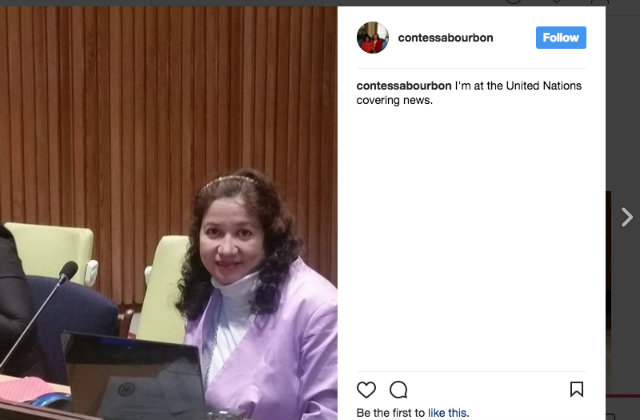 The New York Times sued a woman Thursday in New York state court for posing as one of their reporters. Defendant Contessa Bourbon has never worked for their outlet they said.
From their lawsuit:
Despite the lack of any employment relationship between Ms. Bourbon and The Times, Ms. Bourbon has repeatedly represented herself as a journalist employed by The New York Times since at least May 2015. Ms. Bourbon's false representations that she is a journalist working for The New York Times include: (1) representations made in person at various press related events, including to government officials; and (2) representations made on social media.
Bourbon allegedly misrepresented herself as a Times reporter in several visits to the Brookings Institution, a D.C. think tank, where she interviewed officials like the ambassador to Turkey. According to the lawsuit, the outlet learned on May 18, 2015 about what she was doing, and sent a cease and desist letter. Almost two years later, on March 29, she allegedly returned to the Brookings Institution again, and introduced herself to other attendees (including an actual Times reporter) as a Times reporter herself. She asked a question to Education Secretary Betsy DeVos, said the lawsuit.
In October, Bourbon allegedly posed as a representative for the outlet in her letter to a congressional staff member.
This came to a head. From the lawsuit:
On October 12, 2017, when a congressional staff member asked her for documentation of her assignment from The New York Times, Ms. Bourbon tweeted that she was being blocked from covering the event by the congressional staff. Ms. Bourbon's tweets caused the congressional staff member to contact The New York Times because of the staffer's belief, based on Ms. Bourbon's representations, that she was in fact a New York Times reporter.
The Times said this damaged their reputation, suing under one count of injury to business reputation under New York State law. They demand a restraining order to keep Bourbon from posing as one of their reporters.
The lawsuit references Twitter, Facebook, and Instagram accounts in her name, in which she describes herself as a reporter. Here's a screengrab of her Twitter bio as of 10:30 am EST on Friday: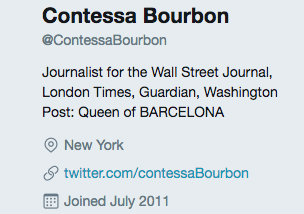 According to the lawsuit, the bio had included a reference of working for the Times. Similar references appear in Facebook and Instagram accounts.
Law Newz reached out to her for comment via the Facebook account in her name. Posts on Twitter Thursday afternoon made apparent reference to the lawsuit.
My lawyer 's name is Susan, pro labor, ally of progressives, impressive credentials.

— Contessa Bourbon (@ContessaBourbon) November 10, 2017
One important condition of my living trusts is that my reputation shd not be ruined. Spreading lies coud make me remove living trusts

— Contessa Bourbon (@ContessaBourbon) November 10, 2017
A representative from WaPo's National News Desk told LawNewz that Bourbon's name was not in their database.
"Contessa Bourbon is not an employee of The Wall Street Journal," said a spokesperson at WSJ.
"We have not heard of this person," said The Guardian News & Media press office.
We also reached out to The Times (in London) for comment.
[Image via Instagram]
Update – Nov. 10, 1:22 p.m.: We added the response from The Guardian.
Have a tip we should know? [email protected]