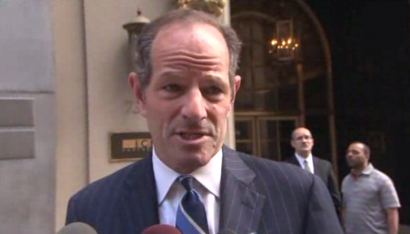 Disgraced former New York Governor Eliot Spitzer is back in the news again, but for all the wrong reasons.
The former governor, who was forced to resign back in 2008 amidst a high profile prostitution scandal, is accused of choking a 25-year-old woman in a suite at the Plaza Hotel on Valentine's Day, according to The New York Post.
The woman, identified as Svetlana Travis, 25, called 911 from the hotel suite to report she was having a breakdown and had cut herself.  When officers responded to the room, Spitzer answered the door but told the police there was nothing wrong, according to the The Post.  By that time, Travis had also told the 911 operator that she no longer needed help, according to the report.
Nonetheless, officers decided to return to the suite a short time later.
"After Spitzer opened the door a second time, the cops spied broken glass, bloodstains and clothing on the floor and started a search inside," The Post reported.  The paper said officers discovered Travis and called an ambulance to transport her to the hospital, where she allegedly told hospital staff that Spitzer had assaulted her.
In an interview with a second set of officers, Travis, who claimed to be Spitzer's girlfriend, reportedly told them Spitzer became upset when she informed him that she would be returning to Russia and he then started throwing her around and choked her.  However, she gave conflicting accounts in follow up interviews, before ultimately becoming totally uncooperative, according to the newspaper.  Another source told The Post that it is believed Travis has already left the country to return to Russia.
When asked for comment, Spitzer's spokeswoman, Lisa Linden, told The Post, "There is no truth to the allegation."
Spitzer has not been charged with a crime as of Monday morning.
[h/t The New York Post; image via screengrab]
Have a tip we should know? [email protected]