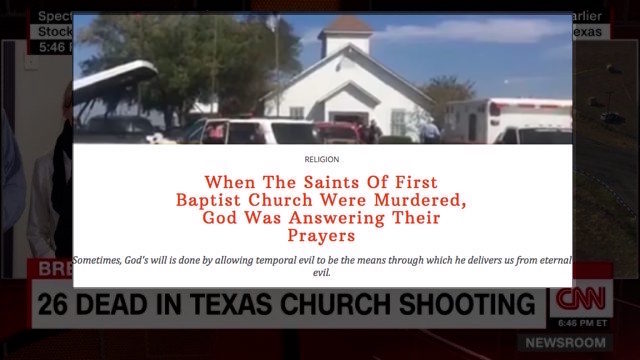 Well-known conservative website The Federalist published an article which claims the victims of the massacre at the First Baptist Church in Sutherland Springs had their prayers answered by being murdered while worshipping.
The article's headline is an apt description of its contents: "When The Saints Of First Baptist Church Were Murdered, God Was Answering Their Prayers."
Author Hans Fiene begins his political-cum-theological argument by excoriating unnamed "secular progressives" for their mockery and dismissal of the public prayer-sending ritual commonly performed by national political figures in the wake of extreme violence.
The author links to two popular tweets written by Hollywood actors. One reads, "They were in church. They had the prayers shot right out of them. Maybe try something else." That tweet was penned by Michael McKean in response to Paul Ryan's call for prayers to be sent Sutherland Springs' way.
Fiene then pivots to discussing gun control legislation and the politicization of tragedy. He writes:
When those saints of First Baptist Church were murdered yesterday, God wasn't ignoring their prayers. He was answering them.
Fiene then begins a lengthy discussion of the Lord's Prayer. He cites to the liturgical recitation as proof that Christians expect God to give them "protection"–even if that means being killed on the temporal plane.
To support his argument, Fiene references part of a sermon given in October 2014 by First Baptist's Pastor Frank Pomeroy. In that sermon, Pomeroy stressed the need for the faithful to "endure" life's troubles. In order to buttress his argument, Fiene writes:
Despite the immense sorrow [Pomeroy], his family, and his congregation are now experiencing, I pray they will still trust in these words.
Fiene concludes full-circle by contrasting right-wing citizens who believe in the Almighty God with progressives who believe in the "Almighty Government."
The Federalist is an online news magazine founded in 2013 by Ben Domenech, a controversial conservative media figure who has been accused of plagiarism on numerous occasions.
Fiene produces a satire series called Lutheran Satire. LawNewz reached out to Fiene in order to ascertain whether his piece in The Federalist was intended to be satire. A response was not forthcoming at the time of publication.
[image via screengrab]
Follow Colin Kalmbacher on Twitter: @colinkalmbacher
Have a tip we should know? [email protected]