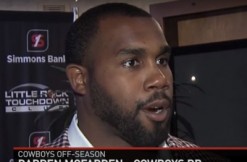 On Tuesday, a running back for the Dallas Cowboys sued his ex-financial adviser, Michael Vick. Don't get excited. This isn't the Quarterback Michael Vick. This is another guy with the same name.
From Darren McFadden's lawsuit, obtained by LawNewz.com, filed in the U.S. District Court for the Eastern District of Arkansas:
After manipulating control of virtually the entirety of Plaintiff's income and assets through a sweeping and fraudulently-induced power of attorney, Vick promptly began converting a substantial portion of Plaintiff's monies and assets for his own personal use and gain, thereafter claiming through purported gross management and recklessness to have "lost" a significant portion of Plaintiff's monies and assets.
I.E.., Vick allegedly mismanaged McFadden's money, and now the running back wants his millions back, not to mention punitive damages.
According to the complaint, McFadden and Vick met in 2008 when the latter worked for Amerprise, a financial planning company. In 2008, Vick left the company and convinced McFadden to let him be his "trusted financial adviser and business manager." This relationship encompassed most, if not all, aspects of the football player's finances. A short list: taxes, investments, insurance, assets, and credit cards.
McFadden claims Vick repaid trust with deceit. For example, the defendant allegedly leeched money from the plaintiff, ostensibly for business ventures, records of which allegedly turned out to be fabricated. All told, McFadden claims he lost at least $15 million, maybe more, and fired Vick on May 15, 2015, after he reportedly discovered the scam.
LawNewz.com was unable to reach Vick for comment as of press time.
Drafted in the first round of the NFL draft, the 28-year-old McFadden has played professional football since 2008.
Robert Webster helped research for this article.
–
Follow Alberto Luperon on Twitter (@Alberto Luperon)
Have a tip we should know? [email protected]